Star Wars Bits: ABC Has Begun Talking About 'Star Wars' TV Shows; Plus 'The Star Wars,' 'Battlefront' And Celebration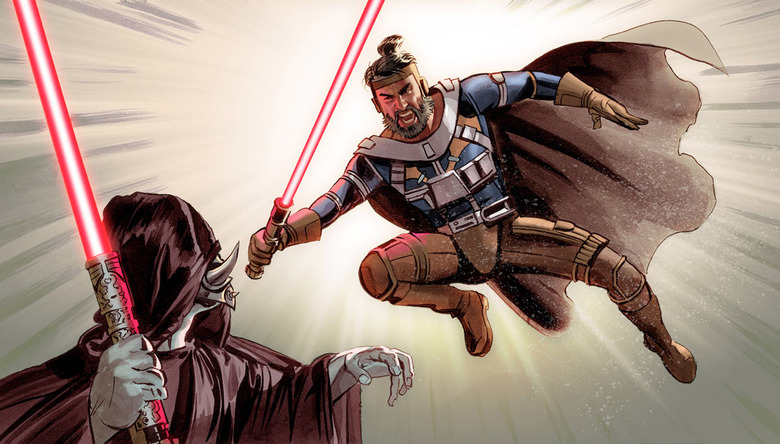 Begun, the TV discussions have. At the TCAs this weekend, ABC executives revealed they've started to talk to Lucasfilm about possible ways to bring the Star Wars brand to TV. Below, read about that as well as a few other Star Wars Bits:
A metal band filmed their music video on Star Wars sets in Tunisia. 
Star Wars: Battlefront won't be released until Summer 2015.
Star Trek star Karl Urban wouldn't want to be in Star Wars.
Watch Warwick Davis talk to Anthony Daniels and others at Star Wars Celebration Europe.
In regards to the Star Wars TV news, unfortunately, there isn't much to report. Here's what the president of Disney's ABC Entertainment Group, Peter Lee, said on Sunday:
We've started conversations with [Lucasfilm]. I have an inkling in my mind, but they have a lot on their plate.
He's of course talking about both Star Wars Episode VII and Star Wars Rebels, the animated TV show being created for Disney XD. ABC was able to work with Marvel to create Agents of S.H.I.E.L.D., but that's going to end up coming out six years after the full Marvel Cinematic Universe began. I don't expect the Star Wars series to take that long, but, it'll certainly be later rather and sooner.
On with the Star Wars Bits.
First up, here's a cool music video by a band called The More I See, which was shot in Tunisia at the actual Star Wars locations.
Next, Comic Book Resources has a great write up on the upcoming Dark Horse mini-series based on George Lucas's originally screenplay, The Star Wars. Among it, a bunch of new art and here's just one example. Head there for much more.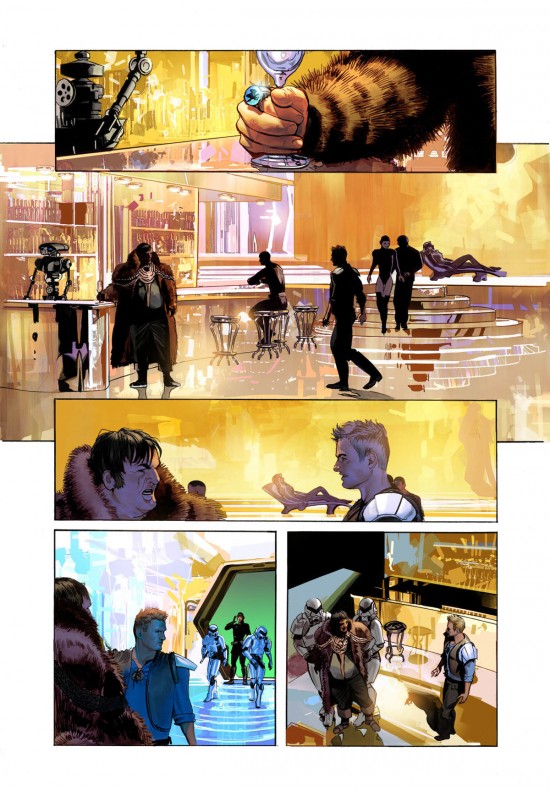 Fans who got stoked about the Star Wars: Battlefront teaser at E3 this year better not hold their breath. In a new interview with Euro Gamer (via Superhero Hype), the CFO of Electronic Arts revealed it probably won't be out until the summer of 2015:
We have partnered with Walt Disney and Lucasfilm to develop a whole new generation of Star Wars games for the console as well as for mobile and handheld devices. The first game that we're focused on is Battlefront. It's a traditional game that's done extremely well and this will most likely come out around the same time as the Star Wars movies start to come out, probably in the summer of '15.
When new Star Wars movies were announced, seemingly every actor out there said they wanted to be a part of it. Now, Dredd and Star Trek star Karl Urban explained to IGN why he wouldn't want to be in it.
I grew up watching it. That was the Holy Grail for me. I was a fan of Star Trek growing up. Star Wars was it. Star Wars was like...I remember waiting for two/three years for that next installment, for Empire Strikes Back and Return of the Jedi. I've seen every single Star Wars film, even the animated, The Clone Wars, and all that sort of stuff. I just love that universe, but that being said, I have no desire to be part of it. I don't see the worlds of Star Trek and Star Wars joining. I've made a commitment to Star Trek and I'm going to keep it. It wouldn't feel right to me. Being in Star Trek, to suddenly be in Star Wars wouldn't feel right to me....I, as an audience member, wouldn't want to see an actor from Star Trek in Star Wars. I just wouldn't. When I go into a Star Wars movie I want to be completely enveloped. I don't want to be taken out of the picture by going, 'Oh my God, there's Scotty, what's he doing in Star Wars?'
Actor Warwick Davis was the emcee at Star Wars Celebration Europe last weekend and, besides the on stage interviews, he had some backstage discussions too. Head to the Star Wars YouTube for more, but, here's just one example: