'American Hustle' Trailer: David O. Russell Visits The 1970s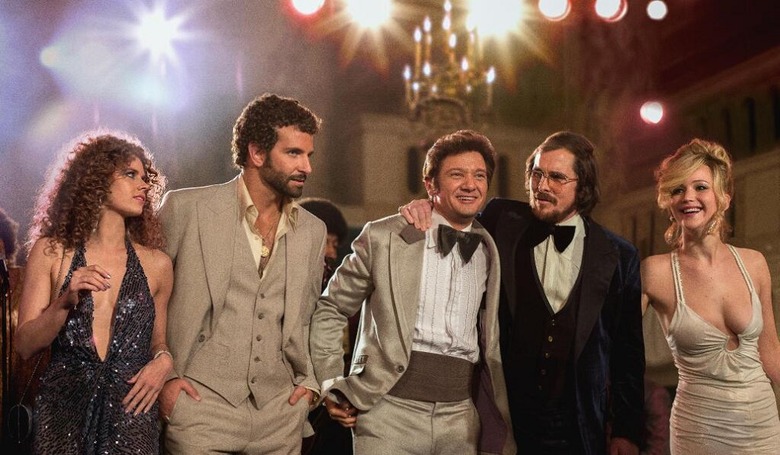 As we've seen in earlier stills, David O. Russell's American Hustle features some very good actors with some very bad haircuts. Now we finally have our first look at all of them in action with the first trailer.
Starring The Fighter's Christian Bale and Amy Adams with The Silver Linings Playbook's Bradley Cooper and Jennifer Lawrence, the film follows the Abscam FBI sting of the 1970s, which ensnared everyone from mobsters to politicians. Watch the trailer after the jump.
American Hustle has been on our radar for months, since the combination of Russell, that premise, and that cast is just too intriguing to ignore. The zesty first trailer really delivers on that promise. Sony obviously has sky-high hopes as well — studios don't spend what must've been a small fortune for a Led Zeppelin song to promote a movie they expect to be a dud.
As Russ described it, the Abscam sting was "basically an FBI-backed version of the classic 'Nigerian prince' email scam where a supposed member of royalty seeks help getting his/her money out of the home country." It ultimately led to the conviction of five US congressmen and a US senator, among others.
Bale plays Irving Rosenfeld, a New York con man forced to aid in the operation by an "unhinged" FBI agent (Cooper). Adams plays Irving's girlfriend and accomplice, and Lawrence his wife. Renner, the only one of the five leads working with Russell for the first time, portrays a New Jersey mayor. Louis C.K., Alessandro Nivola, Elisabeth Rohm, Dawn Olivieri, Jack Huston, Michael Pena, and Robert De Niro round out the cast.
American Hustle opens in limited release on December 13 before going wide on December 25.