Rumors: Will 'Transformers 4' Feature Dinobots? Is Tony Stark Ultron's Creator?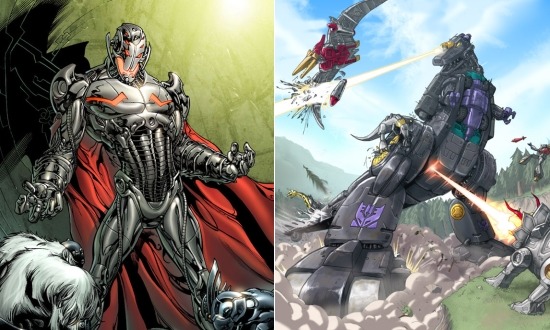 I feel for movie makers sometimes. It's totally understandable that they'd want to keep certain juicy plot details under wraps, and it's surely annoying to have to fend off prying fans who'd rather know everything right now. I don't, however, feel bad enough for them to refrain from passing along some juicy hints when we get them.
Earlier this year, an anonymous source slipped that Dinobots would play a prominent role in Transformers 4. Nothing's officially been confirmed, but star Mark Wahlberg's recent reaction when asked about the fan-favorite characters seems like a small hint.
Meanwhile, over in the Marvel Cinematic Universe, a casting call lends some credence to the popular theory that Tony Stark, not Hank Pym, will be the creator of Ultron in Avengers: Age of Ultron. Hit the jump to get the latest dirt on both rumors.
Obviously, Wahlberg hasn't entirely verified the rumors. As he points out, he wouldn't be allowed to even if he wanted to. But his coy reaction indicates that there's something he's not telling — which probably wouldn't be the case if Dinobots weren't in the movie at all, right?
Moving on, the Marvel Cinematic Universe tidbit comes courtesy of Feature Film Casting (via Comic Book Movie). Here's the potentially spoiler-ish plot synopsis they posted with a casting call for Avengers: Age of Ultron.
In "The Avengers: Age of Ultron" Loki is gone and the new villain will be the evil robot Ultron, who has the ability to keep upgrading his own strength, making him extremely fearsome. Tony Stark/Iron Man becomes the unwitting creator of Ultron. The brother-and-sister team of Quicksilver and the Scarlet Witch become the seventh and eighth members of The Avengers. Quicksilver has extreme speed, while Scarlet Witch can cast spells and has telekinesis ability. Black Widow and Hawkeye will be key figures in the film.
Feature Film Casting is far more reliable about casting notices (which are their raison d'être, after all) than they are about plot scoops, so the summary above should be taken with a grain of salt.
However, we already know for certain that Hank Pym won't be Ultron's creator, as he is in the comics, since he won't appear in the MCU until Ant-Man. That leaves genius scientist Tony Stark as the obvious alternative, and indeed that's the predominant theory that's sprung up in recent weeks, supported by statements from Kevin Feige and Joss Whedon. This report seems to bolster that, even if it doesn't 100% confirm it.
In any case, we'll know for certain once Avengers: Age of Ultron opens May 1, 2015. Transformers 4 opens before that, on June 27, 2014.