Sequel Bits: 'The Raid 2', 'Sharknado 2', 'Super Troopers 2', '22 Jump Street'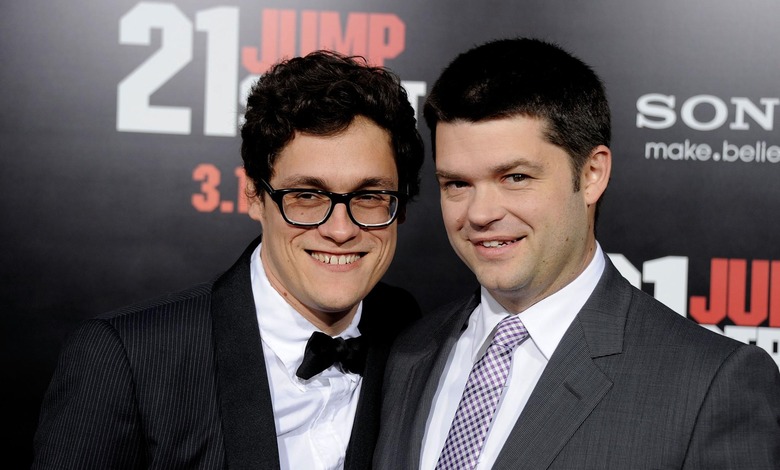 Don't worry, everyone: Tara Reid is probably coming back for Sharknado 2. At the very least, the producers are saying they want her back for Sharknado 2, along with Ian Ziering, Cassie Scerbo, and everyone else. Also after the jump:
Super Troopers 2 could look to Kickstarter for funding
It's a wrap for The Raid 2: Berandal, reports Gareth Evans
Phil Lord and Chris Miller drop hints about 22 Jump Street
Sigourney Weaver joins the Mortal Instruments sequel
Syfy and The Asylum love Ian [Ziering], Tara, Cassie [Scerbo], [and] EVERYONE. Hopefully [Reid will] be the one turning us down because this bizarre film gives her — and the rest of the cast — some great opportunities, and therefore [she will be] unavailable. Despite all of the rumors and tabloid stories, Tara was great to work with. She showed up to play. Knew her lines. Was into this crazy, silly film. No drama. No diva. ... She was great and we would be lucky to have her in S2.
So far, Reid says, the only thing that's confirmed about Sharknado 2 is that it'll be set in New York. And, of course, that it'll feature a tornado of sharks. Otherwise, that title would just be false advertising. [THR]
Broken Lizard fans have been clamoring for a Super Troopers 2 for years. But do they want one badly enough to fund it themselves? While appearing as guests on the Bertcast podcast this week, Kevin Heffernan and Steve Lemme reported that Fox had agreed to distribute the film. The studio will not, however, fund production or marketing, which Fox execs estimate could cost around $15 million total.
"We're hoping that it's not going to be that hard because there are people with money out there who are fans," Heffernan said. Added Lemme, "We don't have that kind of money, so Kickstarter seems like a legitimate way to do it." The pair see a silver lining in not getting studio money, however. "We certainly don't have any interference with the studio. We can make the movie we want to make," Heffernan pointed out. [via Screen Rant]
If it feels to us like The Raid 2: Berandal has been shooting forever, we can only imagine how it feels for director Gareth Huw Evans. Or better yet, we can see how it feels for him. The photo below comes from the last day of principal photography, July 27.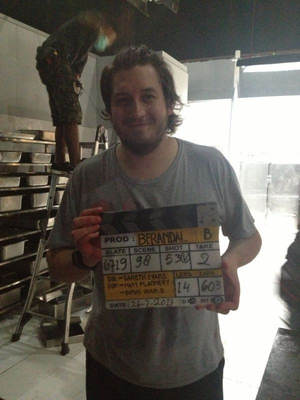 Evans shared some of his feelings on Twitter as well.
The Raid 2: Berandal now enters post-production, for an expected 2014 release date. But first, Evans tweeted, he has other things to do. "Plan for the day is simple. Eat shit food. Watch a bunch of movies. Then sleep for a fuckload of time," he wrote. [Twitch]
The second it became apparent that 21 Jump Street would get a sequel, we wondered whether directors Phil Lord and Chris Miller would return. Now the pair have confirmed in an interview that they will indeed come back, and that they're gearing up to shoot in September.
Lord and Miller wouldn't get into much detail about the plot. They did drop a couple of tantalizing hints, including an explanation of the film's title 22 Jump Street.
MILLER: I can tell you it's called 22 Jump Street because they move across the street.
LORD: To an even cooler office. It's a lot about how they have more money this time, and so they can have everything be cooler (laughs).
MILLER: And they do go to college, but that's about all we can say at this point about it.
Thematically, Lord explains, the film will chronicle the next stage in their relationship.
It's more about their marriage, basically. If the first movie is about two people getting together for the first time, this is about what happens if you try to really make the relationship work. We'll probably never do another bromance after this one, but we're trying to get as emotionally deep into that as possible.
Read more at Collider.
The Mortal Instruments: City of Bones is still a few weeks away from its August 21 opening, but it's already making big plans for the sequel. Sigourney Weaver has entered talks for the follow-up, titled The Mortal Instruments: City of Ashes.
Weaver will play one of the few new characters in the next films, joining Lily Collins, Jamie Campbell Bower, and other returning stars. Harold Zwart, who directed the first film, will also come back. Shooting is scheduled to get underway this October for the fantasy film. Provided, anyway, that City of Bones isn't a total flop. [THR]