First Look: Christian Bale, Amy Adams And Bradley Cooper In 'American Hustle' From David O. Russell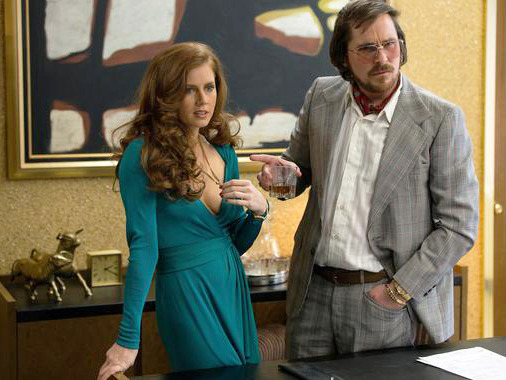 The shot above is one of the first two official photos from the next film from David O. Russell, American Hustle. Based on the '70s "Abscam" FBI sting in which the FBI targeted corrupt officials by luring them with a fictional Middle Eastern sheikh who supposedly wanted asylum in the US. The sting was basically an FBI-backed version of the classic "Nigerian prince" email scam where a supposed member of royalty seeks help getting his/her money out of the home country.
The film stars Christian Bale, Bradley Cooper, Jeremy Renner, Amy Adams, Louis C.K., Jennifer Lawrence, Alessandro Nivola, Elisabeth Rohm, Dawn Olivieri, Jack Huston, Michael Pena and Robert De Niro.
As pointed out by a couple people on Twitter, Bale is done up to look quite a bit like legendary producer Robert Evans, while Amy Adams in a mode that's more sultry than usual. In another pic found below, you can see Bradley Cooper looking like a dead ringer for his Hangover director Todd Phillips.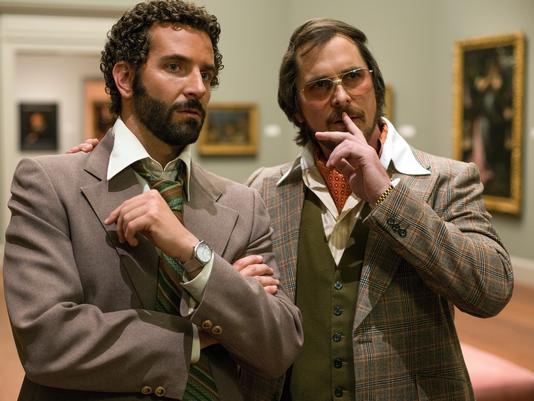 Bale is Irving Rosenfeld, "a brilliant Bronx con-man whose specialization in stolen art catches the attention of unhinged FBI agent Richie DiMaso (Bradley Cooper)." So they're the two principals in the operation, which also involves Rosenfeld's lover Sydney (Amy Adams), Rosenfeld's Long Island wife (Jennifer Lawrence) and Carmine Polito, "a volatile New Jersey mayor" played by Jeremy Renner.
American Hustle opens limited on December 13 then goes wide on December 25. [USA Today]