Cool Stuff: Tyler Stout's 'Shaun Of The Dead' Poster For Mondo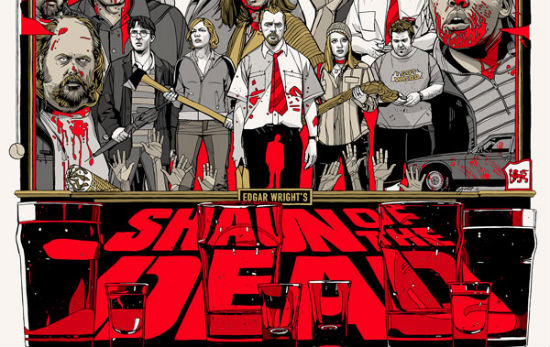 Edgar Wright, Simon Pegg and Nick Frost took Austin, TX by storm this weekend. They rolled into town to present the full Cornetto Trilogy (Shaun of the Dead, Hot Fuzz and The World's End) and even came bearing a brand new, mind-blowing Mondo poster. It's for their 2004 zombie romantic comedy Shaun of the Dead and it's by the legendary Tyler Stout. Check out both the regular and variant images below.
Shaun of the Dead by Tyler Stout is a 24 x 36 inch screenprint in a regular edition of 710 and variant edition of 300. It'll go on sale August 22. The regular is $60 and the variant is $110. Follow @MondoNews for a one day warning, and then the exact on sale time.
Regular on the left, variant on the right.
If you look closely, at the top of the poster you'll see Justin Ishmael, Rob Jones and Mitch Putnam, three of Mondo's creative team, reimagined as zombies. Odds are there are even more easter eggs in this work too, as Stout is a massive fan of the film. For me, while the whole poster looks great, it's the pint and shot glasses placed over the title that really bring the poster to another level. It's a simple, yet perfect touch.