Kathleen Kennedy Talks 'Star Wars' Writing Meetings, Effects, George/JJ's Meeting And More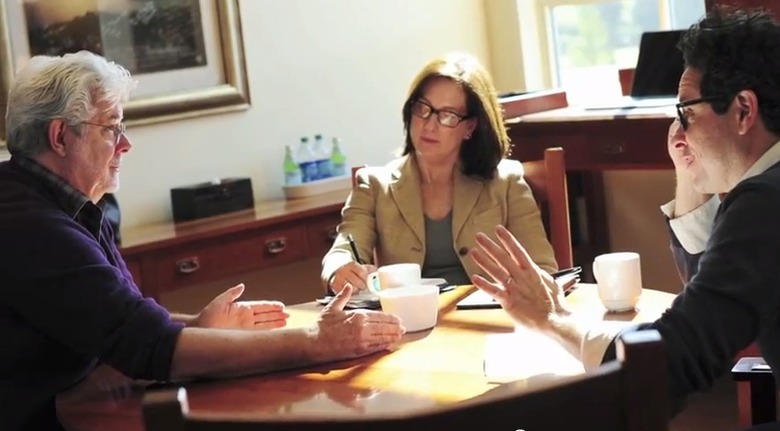 Lucasfilm President Kathleen Kennedy appeared at Star Wars Celebration this weekend in Essen Germany. Kennedy appeared on a panel with Warwick Davis, and this is where she announced that John Williams would be returning for the new Star Wars films (reported elsewhere on the site). What else did she say? What else was revealed? Find out after the jump.
Here are a few things we learned from the StarWars.com liveblog and The Ginger Prince's tweets:
Kennedy showed enthusiasm for using more practical effects and real locations in the new trilogy, saying: "Much like many of you, looking at all the Star Wars movies and getting a feeling in what the early films did in combination with real locations and special effects — that's something we're looking very seriously at. We're going to find some really cool locations for Ep VII. We're going to use ever tool in the toolbox for this movie." ... "It's using artwork that you can touch and feel in combination with CG effects."
But of course, "We know that if we don't have great stories and great characters, then effects mean nothing." While I'm sure Kennedy will be confirming a lot of returning cast in the next couple months, she made it clear that this is about creating something new: "We have an opportunity to create some amazing new characters"
On selecting J.J. Abrams to direct Star Wars Episode 7, Kathleen revealed that she put together a shortlist of directors with George Lucas and Abrams was at the top of the list: "He has a sense of aspiration in what he does. His films tend to be hopeful. They're fun and exciting...I think he's going to do an amazing job."
George Lucas thinks its very important to make the films fun, and hopes that the series maintained a sense of humor.
As evident in from the header photo, George Lucas has met with JJ Abrams and Kennedy says "George has downloaded his ideas into JJ"
Kennedy now works out of George Lucas' old office in LucasFilm's Presidio headquarters, but spends half the week at Bad Robot in Los Angeles. Kennedy spends a lot of time skyping and sitting in on long, lengthy story meetings with JJ Abrams and the writing team at Bad Robot. "Great stuff is coming out of those discussions."