'Sharknado' Gets Midnight Theatrical Run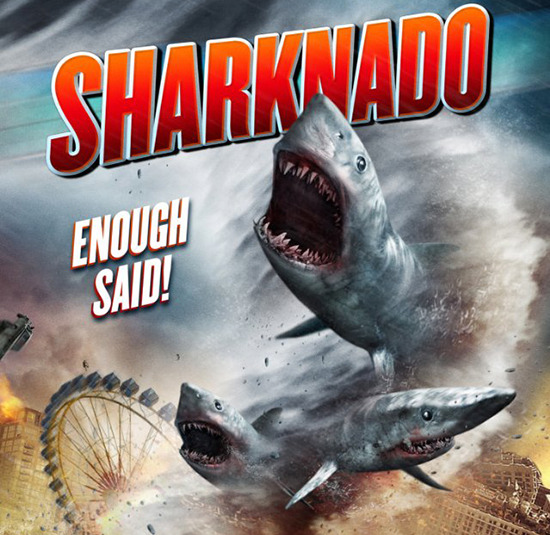 Regal Cinemas knows what their customers want. They want sharks in tornados, at midnight, on a big screen with super loud sound. Sharknado, the SyFy exploitation film starring Ian Ziering and Tara Reid, will play at midnight on August 2 at about 200 Regal Cinemas across the country. That's quite a step up for a made-for-TV movie.
The Hollywood Reporter reported on the news. You can find a full list of theaters, and buy tickets, here.
Here are a few quotes from Regal executives explaining why they decided to show a low budget SyFy film on the big screen:
"There's just something epic about watching these huge beasts on the big screen with your friends and family. The crowd reactions will make for a memorable experience in our theaters." - Ken Thewes, Regal's chief marketing officer
"You know how audiences have had fun with Rocky Horror Picture Show over the years. If the internet reactions to this film are any indication, then our moviegoers are primed and ready to enjoy Sharknado larger than life in cinemas. Regal is proud to be giving our guests this chance to fuel the social media whirlwind by inviting friends to come to the show and tweeting reactions." -  Chris Sylvia, director of digital marketing for Regal Entertainment Group, said in a statement.
Whether or not Sharknado has a run like The Rocky Horror Picture Show did on the midnight circuit remains to be seen. But it definitely has the right vibe to chew popcorn, scream at the screen and laugh hysterically. Perfect for midnight.
Are you gonna check this out?