'47 Ronin' Trailer: Keanu Reeves Leads Carl Rinsch's Samurai Epic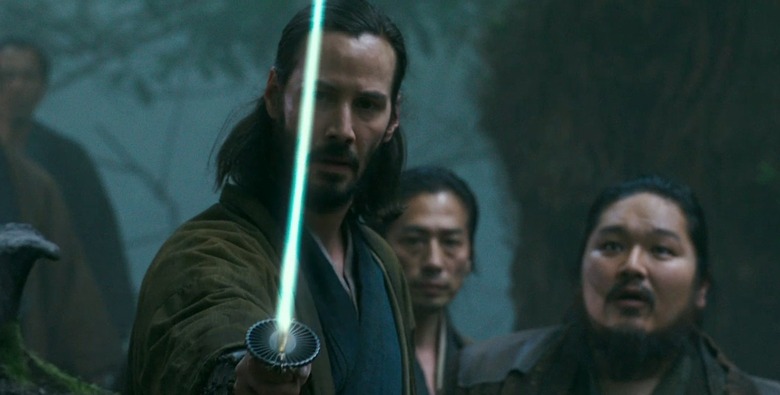 Carl Rinsch's 47 Ronin has had a long, tough journey to the big screen. The release date was pushed back multiple times, each time amid a flurry of rumors about on-set trouble. But this Christmas 2013 release date is sticking, and the samurai epic is now ready to show off its first bit of footage.
Keanu Reeves leads the fantasy epic as an outcast who joins with a band of warriors seeking to avenge their murdered master. Hiroyuki Sanada, Ko Shibasaki, Tadanobu Asano, and Rinko Kikuchi also star. Watch the first trailer after the jump.
I can't say I'm all that impressed by the trailer. The fantastical premise should lend itself to eye-popping imagery, but the effects work seems more cheesy than cool. Worse, I'm struggling to understand who these characters are or why I should care what happens to any of them. But I'll grant that that may be more a product of bad trailer editing than a bad movie, and that it may just be that 47 Ronin isn't my cup of tea.
47 Ronin opens December 25. What do you think of the first trailer?
Keanu Reeves makes an explosive return to action-adventure in 47 Ronin. After a treacherous warlord kills their master and banishes their kind, 47 leaderless samurai vow to seek vengeance and restore honor to their people. Driven from their homes and dispersed across the land, this band of Ronin must seek the help of Kai (Reeves)—a half-breed they once rejected—as they fight their way across a savage world of mythic beasts, shape-shifting witchcraft and wondrous terrors. As this exiled, enslaved outcast becomes their most deadly weapon, he will transform into the hero who inspires this band of outnumbered rebels to seize eternity. Helmed by director Carl Rinsch (The Gift), 47 Ronin is produced by Scott Stuber (Ted, Identity Thief), Pamela Abdy (Identity Thief, upcoming Kill the Messenger) and Eric McLeod (Mr. & Mrs. Smith, Austin Powers series).