Exclusive: Mark Englert '2001: A Space Odyssey' And 'Dr. Strangelove' Posters For Gallery 1988 Kubrick Exhibit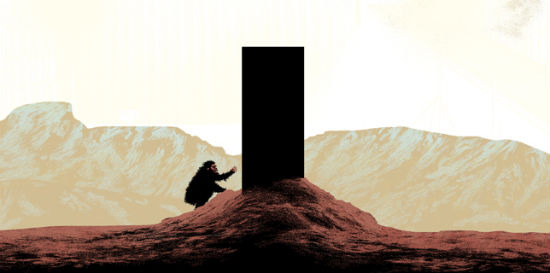 Friday July 26, Gallery 1988 will turn Melrose Avenue (the street) into Melrose Place (the party-centric TV show). Both their galleries are having major pop-culture art openings which are sure to turn the four blocks between them into a madhouse of strolling art fans. We'll be posting art from both shows and here's the first.
At Gallery 1988 East, Mark Englert will have his first solo show called Director Series: Kubrick. It's an entire show of posters based on the films of the legendary director, and the first in a soon-to-be annual tradition of Englert applying his signature detailed landscape style to the films of a specific director. Below, we exclusively debut Englert's posters for 2001: A Space Odyssey and Dr. Strangelove.
Here are Englert's posters for 2001 and Dr. Strangelove. He'll also have posters for The Shining, Full Metal Jacket and a few others.
Here's the deal. The Strangelove is just one colorway. The 2001 is a regular (the apes) with a glow in the dark element. There's a variant too, but that'll be revealed later. These are all 12 x 36 inches. We're still waiting on cost and edition size.
Mark Englert's Director Series: Kubrick, opens from 7-10 p.m. at Gallery 1988 East, 7021 Melrose Ave., Los Angeles. It'll remain on display through August 24.
At Gallery 1988 West, they'll have We Made Them Do It, which is described as follows: "We worked hand in hand with artists to create artwork based on movies & TV shows that would never, and have never, gotten the art tribute treatment.  You find work inspired by The Wonder Years, Jem, Walker Texas Ranger, Beverly Hills 90210, Secretary, Con Air, and so much more!" It also opens from 7-10 p.m. July 26, but down the street at 7308 Melrose Ave. It remains on display through August 15.
For more on both shows, visit nineteeneightyeight.com.