Agent Coulson Probably Won't Appear In 'Avengers: Age Of Ultron'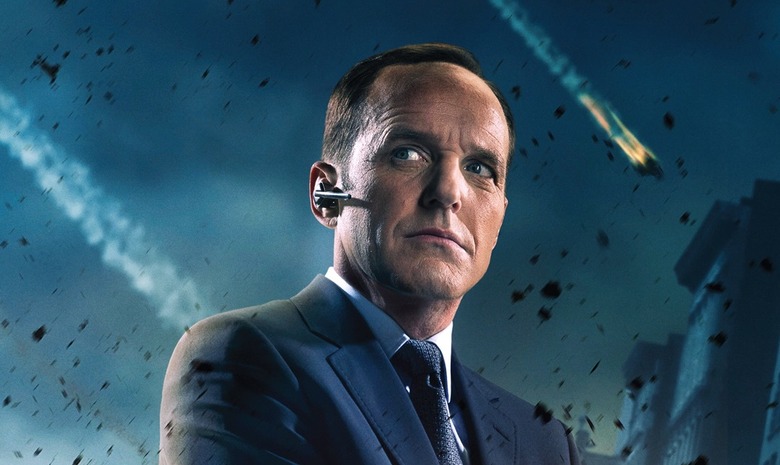 Phase Two of the Marvel Cinematic Universe now looks pretty clear. The Iron Man, Thor and Captain America sequels will lead directly into Avengers: Age of Ultron, while Guardians of the Galaxy will feature Thanos and look ahead to Phase Three.
One offshoot that's a little less clear is on television. Marvel's Agents of S.H.I.E.L.D. takes place in the same universe as the films. We know this because the plot of the show features Agent Coulson (Clark Gregg) returning from the dead to lead members of S.H.I.E.L.D. in investigating other superheroes. Coulson was a major part of Phase One and The Avengers but, according to Joss Whedon, that probably won't be the case this time around. Read his quote below.
Whedon spoke to the Associated Press (via Coming Soon) after the Age of Ultron reveal and was asked about Coulson possibly making an appearance:
He could. Right now it's not something I'm pursuing because I have so much going on in 'Avengers 2.' Finding out that Coulson is alive would be an entire B story. And I already have too much movie. That's better than the other thing.
He went on to elaborate why characters such as Nick Fury (Samuel L. Jackson) will probably stay in the movies, even though they're part of the same organization:
But we also have the movies and we have TV and we need to make sure there's some crossover, but not so much that people go, 'Well, I don't need to see that movie. I saw it on TV.' If we do that (Marvel Studios President) Kevin Feige is going to come after me with a pitchfork.
There's little doubt there will be some crossover between Phase Two and Marvel's Agents of S.H.I.E.L.D., even if it's just minor asides in an episode. (Like, hypothetically, a newspaper about the events of Iron Man 3 or something.) However, we keep hearing Captain America: The Winter Soldier truly changes the Marvel Universe looking ahead to Avengers: Age of Ultron and maybe that has something to do with S.H.I.E.L.D. We'll all find out over the course of the next year.
How do you see this all playing out?