Early Buzz: Bong Joon-Ho's Dark, Ambitious 'Snowpiercer' Wows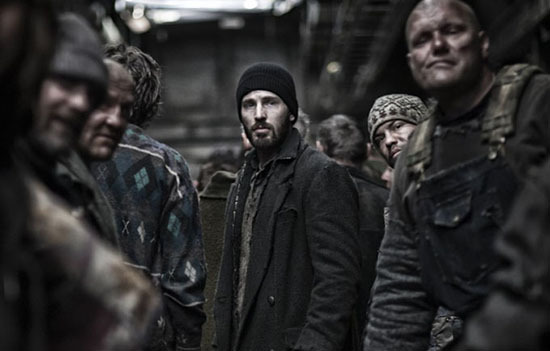 We may receive a commission on purchases made from links.
After much anticipation, neither Kim Ji-woon's The Last Stand nor Park Chan-wook's Stoker set Western audiences on fire when they opened earlier this year. But the third English-language debut by a South Korean director this year, Bong Joon-ho's Snowpiercer, seems poised to blow the other two out of the water.
Following very early screenings for the highly anticipated sci-fi film, the very first reviews have begun trickling out. And the critics seem to agree on a few points: 1) that Snowpiercer is very, very dark, 2) that it's so dark it could turn off movie ticket buyers, and 3) that it's freakin' fantastic. Hit the jump to read their comments.
[A]n enormously ambitious, visually stunning and richly satisfying futuristic epic from the gifted Korean genre director Bong Joon-ho ("The Host," "Memories of Murder"). A rare high-end sci-fi/fantasy pic made completely outside the studio system, and that even rarer case of an acclaimed foreign helmer working in English with no appreciable loss of his distinctive visual and storytelling style.
Twitch was similarly enamored:
Cinema is a medium of motion and if anyone understands this, it appears to be Bong Joon-ho, whose visionary new work is a demented and stunning thrillride. In his first production outside his native South Korea, Bong has delivered his most ambitious project yet, and proves more than capable of handling an international, multilingual cast and a large budget. [...]
Though it was never going to be a sunny ride, the sheer desperation, violence and madness on display throughout Snowpiercer's 125 minutes make it one of the most dystopian films we've seen in quite some time.
Darcy Paquet, who literally wrote the book on Korean cinema, had glowing praise as well.
I loved SNOWPIERCER! Everyone's a bit surprised at how dark this film is, but it's a really powerful movie.

— Darcy Paquet (@darcypaquet) July 22, 2013
There's a lot of depth to the script, not so much the political satire of THE HOST – more of a serious, sometimes despairing tone.

— Darcy Paquet (@darcypaquet) July 22, 2013
We expect execution to be top-notch in a Bong Joon-ho film, but this is his first time with a foreign cast. Happily it plays very smooth.

— Darcy Paquet (@darcypaquet) July 22, 2013
Some people are saying it's too dark to succeed at the box office in Korea, but I'm still optimistic. It's utterly unique and exciting.

— Darcy Paquet (@darcypaquet) July 22, 2013
Interesting... many Korean critics are not happy with 설국열차 SNOWPIERCER. But all the foreign critics I know who saw it are raving about it.

— Darcy Paquet (@darcypaquet) July 22, 2013
Both sentiments — the unabashed admiration and the concern over the film's commercial prospects — were echoed by critic James Conran.
Was incredibly lucky to see Bong Joon-ho's SNOWPIERCER today and it's awesome. Much darker, fiercer and inventive than anticipated.

— James Marsh (@Marshy00) July 22, 2013
SNOWPIERCER is easily the best thing Chris Evans has ever done, but Tilda Swinton steals the show. Bong Joon-ho has delivered sci-fi gold.

— James Marsh (@Marshy00) July 22, 2013
@MaxRenn it's great. Much darker and more violent than I'd anticipated. Perhaps too much to be the mainstream crossover TWC probably wanted.

— James Marsh (@Marshy00) July 22, 2013
It's unfortunate, then, that we in the U.S. still have some time to wait for Snowpiercer to hit theaters. Distributor The Weinstein Co. has yet to announce a Stateside release date, which means there's a good chance we won't see it until next year.
At least in the meantime, we can prepare ourselves by learning exactly how it is that the world's population was reduced to a few thousand unhappy souls in the first place. Check out the animated prologue for the movie, released earlier this month, below: