Joss Whedon Says 'Avengers: Age Of Ultron' Will Rewrite Ultron's Origin [Video]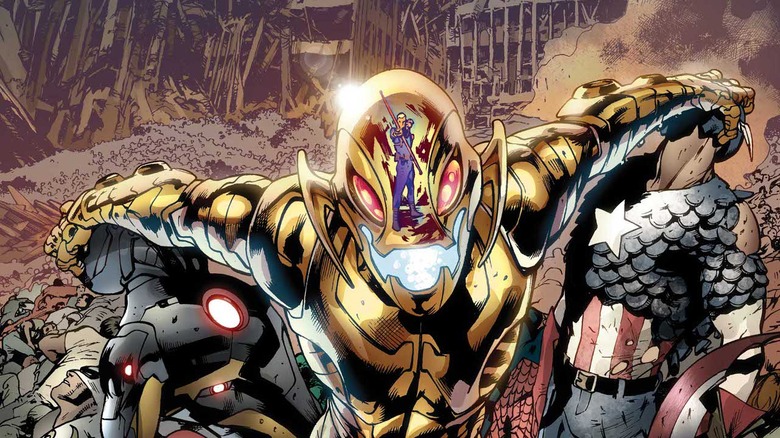 Yesterday Joss Whedon introduced a short video at San Diego Comic Con that announced the full title for the Avengers sequel. Avengers: Age of Ultron will be released in 2015, and the name tells us that the malicious adamantium robot Ultron — a longtime Marvel Universe nemesis with many different incarnations — will play a major role.
A comic book storyline published earlier this year bears the same name, naturally leading many fans to expect that the movie will be an adaptation of that storyline. (A story which features prominent roles for characters Marvel Studios cannot use.) Turns out that the movie is really using the title and presence of Ultron, and possibly little more from that comic book story. Watch Joss Whedon explain the story — which he says he's been thinking about since before The Avengers was done — bel0w.
In an interview created by Marvel, Whedon, who explained that the fact that the film is using the title "Age of Ultron" shouldn't be taken as proof that the movie will adapt the comic storyline of the same name, published earlier this year.
Well, because there was a book called 'Age of Ultron' quite recently, a lot of people have assumed that is what we're doing, but that is not the case. We're doing our own version of the origin story for Ultron. In the origin story, there was Hank Pym, so a lot of people assumed that he will be in the mix. He's not. We're basically taking the things from the comics for the movies that we need and can use. A lot of stuff has to fall by the wayside.
The likely assumption to make — which many people have already guessed — is that Tony Stark will end up creating Ultron, rather than Pym. If you'll remember our description of the teaser video created to announce the movie, the thing features metal being hammered into shape, with that shape ultimately being Ultron's head. The metal looks like Iron Man's helmet, and in fact in the video below Whedon describes the teaser as:
A title treatment of what looked like Iron Man's mask being smashed into something else, which turns into the classic Ultron mask from the comics.
He suggested a little more in the same interview:
We're crafting our own version of it where his origin comes more directly from The Avengers we already know about. It's a little bit darker than the other film because Ultron is in the house. There's a science fiction theme that wasn't there in the other one. Ultron is definitely something that evolves, so we're going to get together a couple of different iterations. Nothing can be translated exactly as it was from the comics; particularly Ultron.
That all helps explain how the film will deal with the Ant-Man question, as Hank Pym is the original Ant-Man. Since Edgar Wright's Ant-Man is scheduled for release after Age of Ultron, we'd wondered how the character introductions would work. Wright's film, we understand will feature both Pym and Scott Lang, the man who took up the Ant-Man identity after Pym. If Age of Ultron features a new origin for the title character, there's no need to introduce Pym before Wright's film gets the chance to do so. (Which doesn't mean that Pym won't appear first in the Avengers sequel — we don't know much of what Marvel has planned here.)
Whedon also suggests that Hawkeye will have a much bigger role this time out, explaining " Part of the fun for me, definitely this time around, is writing Hawkeye. He did get possessed pretty early by a bad guy and had to walk around all scowly for most of the movie so now it's nice to actually have the character there and see him interact with the other guys."
Avengers: Age of Ultron is set for release on May 1, 2015. Chris Hemsworth, Jeremy Renner, Robert Downey Jr., Scarlett Johansson, Chris Evans, Samuel L. Jackson, Cobie Smulders, and Mark Ruffalo are all expected to return.
Here's the video: