'Last Vegas' Trailer: Old Guys Can Get Down, Too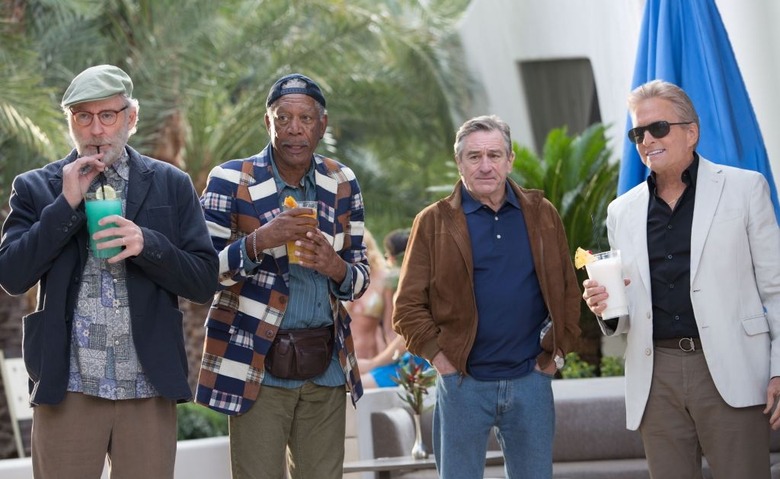 What do you do when you manage to get four iconic Academy Award winners (Michael Douglas, Robert De Niro, Morgan Freeman, and Kevin Kline) together at the same time? If you're director Jon Turtletaub, you get them to recreate The Hangover for the senior citizen set.
To clarify, Last Vegas isn't actually a Hangover remake or sequel, it just kinda looks like one. The quartet play a group of lifelong friends who descend upon Las Vegas for a booze-fueled bacchanal when one of their number (Douglas) finally decides to tie the knot. Watch the first full-length trailer after the jump.
Yahoo Movies got the new video.
We've seen all four of these men challenge much tougher, more interesting roles before, and in an ideal world maybe they'd have teamed up for a more exciting project. On the other hand, they've certainly earned the right to just cut loose and act silly. Some of these jokes are as creaky as an old man's joints, but for the most part Last Vegas looks like harmless fun.
And besides, high school kids have Project X, college students have 21 and Over, and full-fledged adults have the Hangover trilogy. It's only fair that the 60+ crowd get their own hard-partying comedy too, right?
Last Vegas opens November 1.
Billy (Academy Award®-winner Michael Douglas), Paddy (Academy Award®-winner Robert De Niro), Archie (Academy Award®-winner Morgan Freeman) and Sam (Academy Award®-winner Kevin Kline) have been best friends since childhood. So when Billy, the group's sworn bachelor, finally proposes to his thirty-something (of course) girlfriend, the four head to Las Vegas with a plan to stop acting their age and relive their glory days. However, upon arriving, the four quickly realize that the decades have transformed Sin City and tested their friendship in ways they never imagined. The Rat Pack may have once played the Sands and Cirque du Soleil may now rule the Strip, but it's these four who are taking over Vegas.