Syfy Follows Up 'Sharknado' With 'Ghost Shark'; Watch The First Clip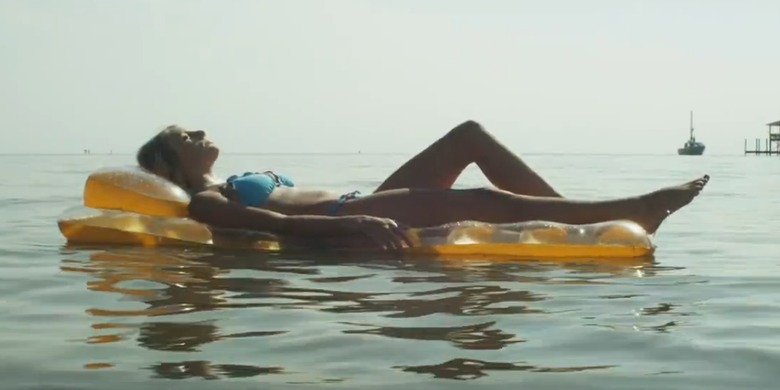 Sharknado may not have been a ratings smash, but it got to be a social media phenomenon thanks to its bizarre premise and tongue-in-cheek marketing campaign. Now Syfy's big challenge will be to top themselves, and the first of their films to try will be the kinda-sorta-not-really similarly themed Ghost Shark.
As with Sharknado, the title is entirely self-explanatory. Taking the Ian Ziering / Tara Reid slot of fondly remembered '90s star this time around is Mackenzie Rosman, best remembered as little Ruthie Camden from 7th Heaven. Yes, that's her in the bikini above, and yes, it's super weird to see her all grown up. Check out the first trailer after the jump.
Thomas Vitale, Syfy's EVP of programming and original movies, revealed that Ghost Shark was inspired by something his 7-year-old daughter said. But lest we think the movie's just the brainchild of an imaginative second-grader, he also promises that there'll be a "logical reason" behind the phantom predator. Much in the same way that global warning explained Sharknado, I suppose.
While Ghost Shark isn't officially a sequel to Sharknado or Sharktopus, it falls in with the recent but prolific tradition of shark-centric B-movies at Syfy. Vitale told Variety that of the 250ish Syfy original films released since 2002, "about 15" have centered around sharks. The creatures "spur an immediate, visceral reaction" in audiences, he explained.
Coincidentally, Ghost Shark is actually one of two upcoming films to boast that title. (Great minds think alike, or something.) There's also an upcoming indie thriller called Ghost Shark 2: Urban Jaws coming out of New Zealand, which is not a sequel to Syfy's Ghost Shark, or anything else for that matter. Check out the (NSFW) concept trailer for that one below, and tell us which you think makes better use of the premise.
Syfy's Ghost Shark opens August 22. The other, Kiwi Ghost Shark has no release date yet.