'Tomorrowland,' 'Frozen,' 'Good Dinosaur' And 'Thor 2' Will Be At D23 Expo; No Mention Of 'Star Wars Episode VII'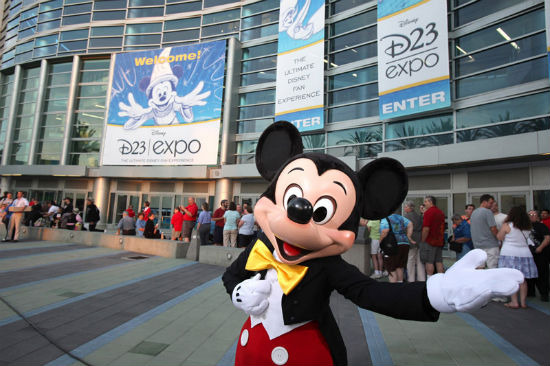 One of the biggest no-shows at this year's San Diego Comic-Con is Disney. The company who owns Pixar, Lucasfilm and more is letting its comic book division, Marvel, give a presentation to the crowd but the rest of the stacked upcoming Disney slate is nowhere to be found. The reason is that the company's very own biennial convention, the D23 Expo, takes place a few weeks later. From August 9-11 in Anaheim, CA, all things Disney will be celebrated including their upcoming movies.
A press release has now confirmed at least a few of the movies that will be showcased at the event. There will be an animated presentation, which will focus on Frozen and The Good Dinosaur, and a live-action presentation, which features Saving Mr. Banks, Tomorrowland and Thor: The Dark World. One glaring omission (among many) is Star Wars Episode VII, but that doesn't mean it won't show up. Read the full press release below.
Here's the full press release from D23 about the movie panels at the Expo. You can check out the full schedule for the event at this link, which has yet to completed.
D23 Expo 2013 will celebrate its grand opening with a welcome from Disney Chairman and CEO Bob Iger followed by the first of two arena presentations hosted by The Walt Disney Studios at the Anaheim Convention Center. On Friday, August 9, The Walt Disney Studios will surprise and delight fans with sneak peeks of the incredible slate of upcoming animated films from Walt Disney Animation Studios, Pixar Animation Studios, and Disneytoon Studios, hosted by Chief Creative Officer John Lasseter. Then, on Saturday, August 10, Walt Disney Studios Chairman Alan Horn will host The Walt Disney Studios live action arena presentation which will pull back the curtain on upcoming releases from Disney Live Action and Marvel Studios. Both presentations will feature exclusive clips and behind-the-scenes footage, filmmaker discussions, and surprise celebrity appearances.
The 4,000-seat arena, the largest venue at The Ultimate Disney Fan Event, will for the first time feature a 2,000-seat overflow theater where guests will be able to watch these once-in-a-lifetime happenings though a live feed.
Art and Imagination: Animation at The Walt Disney Studios (Friday, August 9, 10:00 a.m.): Disney and Pixar Chief Creative Officer John Lasseter, filmmakers and star talent will take guests on a journey through The Walt Disney Studios' slate of upcoming animated features, including Walt Disney Animation Studios' Frozen and Pixar Animation Studios' The Good Dinosaur. Plus, catch the U.S. debut of the new Mickey Mouse short Get A Horse!, major movie announcements, and a not-to-be-missed live musical performance.
Let the Adventures Begin: Live Action at The Walt Disney Studios (Saturday, August 10, 10:30 a.m.): The Walt Disney Studios Chairman Alan Horn will showcase the Studios' exciting live-action release slate, including Disney's Saving Mr. Banks and Tomorrowland, Marvel's Thor: The Dark World, and much more.
Tickets for the D23 Expo are $57 for a one-day adult admission and $47 for children 3–12. Tickets for members of D23: The Official Disney Fan Club are $50 for a one-day adult admission and $42 for children. Multi-day money-saving tickets are also available for both D23 Members and the general public, and D23 Members can save as much as $84 off the price of admission, based on the purchase of four three-day tickets at the D23 Member rate. For more information on tickets and the ticket pricing structure for members and general admission, visit D23Expo.com.
You read that last paragraph right. Tickets are still available for the convention. And while there's no specific mention of Star Wars Episode VII, there's no way it doesn't get mentioned, along with the upcoming Marvel slate and more. The bigger question will be, what information will we know on August 10 that we don't know now? Don't forget Star Wars Celebration is happening in late July in Germany and pretty much the whole Star Wars universe will be there.
Other possible announcements: some of those undated Pixar and Disney animation films, a presentation with Pirates of the Caribbean 5 directors, maybe Alice in Wonderland 2 and so much more.
If you can't be there, we'll be on site making sure all you get the updates as soon as they happen.