'12 Years A Slave' Trailer: Chiwetel Ejiofor Is Robbed Of His Freedom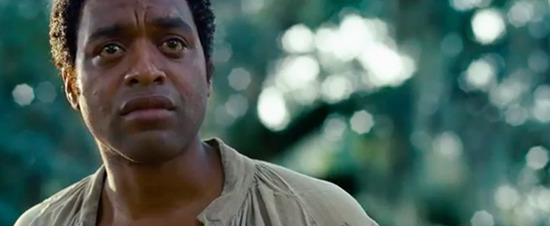 The new film from director Steve McQueen (Shame, Hunger) is based on the true story of Solomon Northrup, a free black man who was kidnapped and held as a slave for over a decade. In 12 Years a Slave, Chiwetel Ejiofor plays Northrup, and we see his horrific journey and what amounts to years of imprisonment as a slave as he is tormented by captors and owners.
The impressive cast also includes Benedict Cumberbatch, Michael Fassbender, Brad Pitt, Paul Giamatti, Paul Dano, Sarah Paulson, Alfre Woodard, Dwight Henry, Quvenzhane Wallis, Lupita Nyongo, Scoot McNairy, Michael Kenneth Williams and Garret Dillahunt. The story is wrenching — if Django Unchained played fast and loose with history, this is the film that attempts to tell the story of a slave's emancipation from more true-to-life details. The trailer has an air of Oscar bait about it, but the emotions it calls up are undeniable. And knowing the way McQueen's films work, the trailer could be a much more audience-friendly experience than the final film will be.
12 Years a Slave will likely premiere in Venice, and has a US release set for December 27.