J.J. Abrams Wants To Shoot 'Star Trek 3' Next Year, Says Zachary Quinto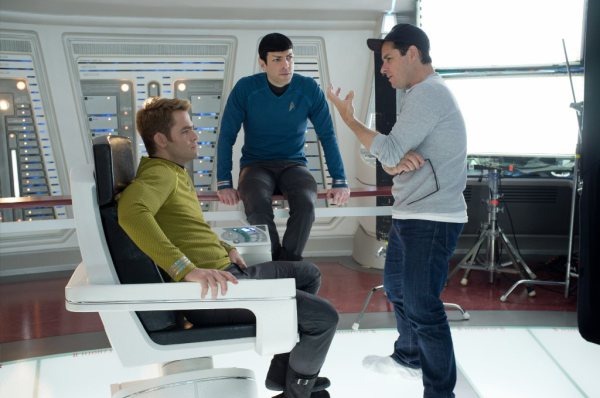 J.J. Abrams' decision to take the Star Wars Episode VII helming gig seemed to leave Paramount's Star Trek franchise with a pretty significant gap. Someone has to direct Star Trek 3, after all, and with Abrams off exploring the further adventures of Luke, Han, and Leia, it didn't seem like he'd have much time left over for Kirk and Spock.
Still, the director's been reluctant to totally rule out the possibility of returning for Star Trek 3. And if Trek star Zachary Quinto's latest comments are be to be believed, that may be because he's still hoping to fit the movie in sometime next year. Hit the jump to see what Spock said.
Star Trek 3 should be filming, I suppose, next year. It's going to be made a lot quicker than the last one. That's the plan, although nothing is confirmed yet.
The key words here are the last four. There's likely a big difference here between what Abrams wants to do (or, at least, what he's told Quinto he wants to do) and what he's actually able to accomplish.
Star Wars Episode VII is tentatively aiming for a 2015 release, which means Abrams will probably have to shoot sometime in 2014. It seems unlikely Abrams would have time to film both Star Wars and Star Trek next year, especially given that Trek 3 doesn't even have a finished script at this point.
Besides, Abrams himself has admitted that the likelihood of his directing a third Star Trek in the near future isn't very high.
If they want [Star Trek around 2016] and if Star Wars goes forward as planned, it would obviously be a conflict. It depends when this movie would happen. [...] But in all likelihood if there is a movie sooner, there will be a different director on the film.
On the bright side, though, Abrams is committed to Star Trek 3 as a producer. So if Paramount moves forward quickly with the next Trek, it's possible Abrams could still work with Quinto next year, albeit in a different capacity.