'The Grandmaster' Trailer: Tony Leung Becomes A Legend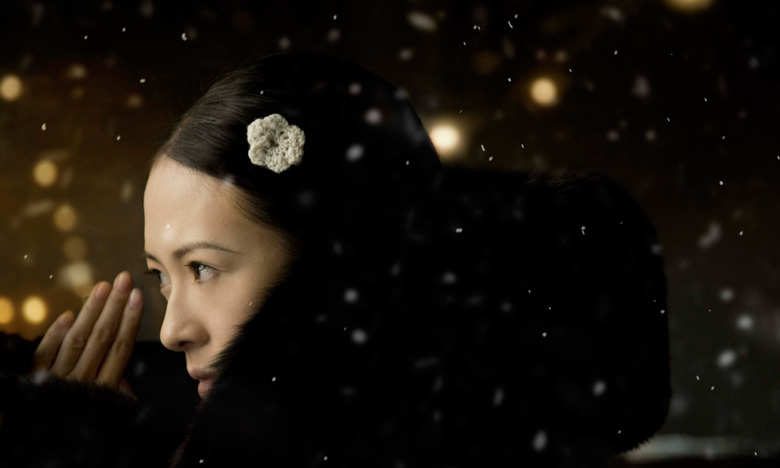 It feels like we've been waiting forever for Wong Kar Wai's The Grandmaster, but next month our patience will finally be rewarded. To prepare us for the martial arts epic's release, The Weinstein Co. has released a new full-length U.S. trailer.
Tony Leung leads the cast as Ip Man, who's probably best known in the U.S. as the guy who trained Bruce Lee. In the 1930s, when The Grandmaster begins, he's a happily married man practicing the Wing Chun kung fu form in southern China. He's challenged to a fight by a martial arts master from the north (Wang Qingxiang), and then later by the man's daughter (Zhang Ziyi). Watch the new promo after the jump.
The trailer starts out with the same rain-soaked scene we've enjoyed in other trailers, but quickly moves on to other, equally dramatic scenes.
There's no dialogue at all, lest the appearance of subtitles turn off American moviegoers. At least the voiceover isn't as annoying this time around. Wong hasn't done much in the martial arts genre, but he seems to acquit himself nicely. There's lots of exciting action, choreographed beautifully by the Yuen Woo Ping, but Wong hasn't lost the moody introspection that marks his other works.
The Grandmaster opens August 23.
Directed by acclaimed filmmaker Wong Kar Wai, THE GRANDMASTER is an epic action feature inspired by the life and times of the legendary kung fu master, Ip Man. The story spans the tumultuous Republican era that followed the fall of China's last dynasty, a time of chaos, division and war that was also the golden age of Chinese martial arts. Filmed in a range of stunning locations that include the snow-swept landscapes of Northeast China and the subtropical South, THE GRANDMASTER features virtuoso performances by some of the greatest stars of contemporary Asian cinema, including Tony Leung and Ziyi Zhang.