'Hell Baby' Red-Band Trailer: Sex, Drugs, And Ancient Exorcism Rituals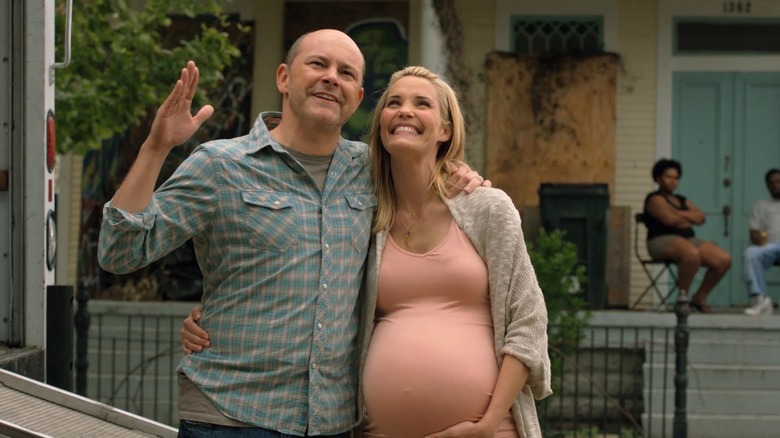 R-rated jokes can be a good tool for a comedy filmmaker to have in their arsenal. There are some gags that simply don't work when they're toned down to satisfy the MPAA. But that doesn't mean ruder, cruder, and lewder necessarily translates to funnier. A limp comedy is still a limp comedy, no matter how many bare butts, dick jokes, and blood splatters you toss in there.
Case in point: Last month's green-band trailer for Hell Baby was pretty hit-or-miss, to put it generously, and I'm not sure that ratio's much improved in this new red-band trailer. More boobs are on display, though, so there's that. Thomas Lennon and Robert Ben Garant direct, and Rob Corddry, Leslie Bibb, Riki Lindhome, and Keegan-Michael Key star. Hit the jump to watch the NSFW video.
As before, it looks like Key, as the couple's neighbor, gets all the best material. If this trailer is a smidge better than the last one, it's because he seems to get more screen time. It's disappointing that he seems like the only real standout here (well, him and possibly Lindhome), since we've seen the rest of the cast be much, much funnier in other things.
Hell Baby hits iTunes July 25, and theaters September 6.
"Hell Baby," a comedy scripted by Thomas Lennon and Robert Ben Garant (Night at The Museum, Reno 911!: Miami) marks their co-directing debut. Jack (Rob Corddry) and Vanessa (Leslie Bibb) are an expectant couple that moves into the most haunted fixer-upper in New Orleans — a house with a deadly demonic curse. Things soon spiral out of control for Jack and Vanessa, as well as their-not-so-helpful neighbor F'Resnel (Keegan-Michael Key), Vanessa's friendly psychiatrist (Michael Ian Black), Vanessa's Wiccan sister Marjorie (Riki Lindhome) and the detectives assigned to look into the rising body count (Rob Huebel and Paul Scheer). Only the Vatican's elite exorcism team (Garant and Lennon) san save them — or can they?