'Seventh Son' Trailer: Jeff Bridges Is A Grizzled Old Enemy Of Evil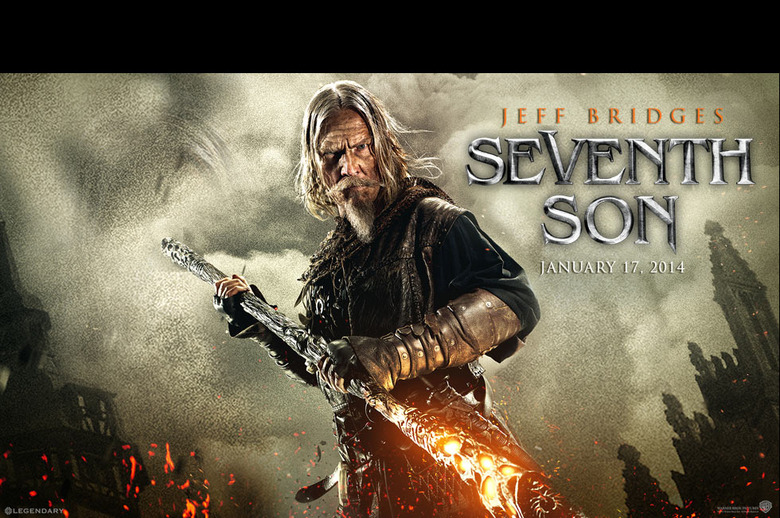 Jeff Bridges may be doing a variant on his True Grit voice for his role in Seventh Son, but if this fantasy action adventure film is made up of recycled parts, at least they look like they've been assembled in a lively fashion. The first trailer for the film introduces Bridges as a warrior/wizard/knight who is opposed to the big, bad forces of evil — especially the version incarnated in the person of a witch played by Julianne Moore.
He's joined by a new apprentice, played by Ben Barnes, who has a useful personal history. He's the seventh son of a seventh son, which fantasy lore and an Iron Maiden album will tell you is a powerful thing. And so they fight evil together. As you'd expect from a big fantasy film produced by Legendary, that evil is incarnated in impressively-rendered digital monsters. (By the late effects house Rhythm & Hues.)
Admittedly, it's also fun to watch Bridges doing a pastiche of Rooster Cogburn and Nicol Williamson's Merlin from Excalibur, so Seventh Son might be worth a look for him alone.
The story here comes from Joseph Delaney's dark fantasy novel series The Wardstone Chronicles. This could be the first of a few films, though with Legendary moving to a new partnership with Universal, the business plan there could be a bit more complicated than if Legendary had stuck with Warner Bros., which is releasing this first movie.
Seventh Son opens on January 17. Apple has the trailer.
In a time long past, an evil is about to be unleashed that will reignite the war between the forces of the supernatural and humankind once more. Master Gregory (Jeff Bridges), the last of the Falcon Knights, had imprisoned the malevolently powerful witch, Mother Malkin (Julianne Moore), many years ago. But now she has escaped and is seeking vengeance. Summoning her followers of every incarnation, Mother Malkin is preparing to unleash her terrible wrath on an unsuspecting world. Only one thing stands in her way: Master Gregory. In a deadly reunion, Gregory comes face to face with the evil he always feared would someday return. He has only until the next full moon to do what usually takes years: train his new apprentice, Tom Ward (Ben Barnes) to fight a dark magic unlike any other. Man's only hope lies in the seventh son of a seventh son.