First Official Look: Tom Hanks And Emma Thompson In 'Saving Mr. Banks'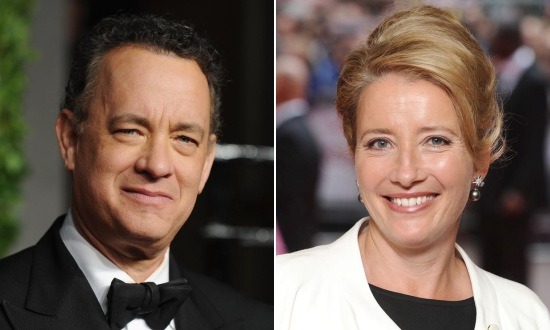 Watching Disney's Mary Poppins as a small child, I remember being amazed by the (in my view) radical technology that allowed real movie stars to stand alongside cartoon critters. Little did I know that combining animation and live-action was the least of the struggles in getting the picture made.
The upcoming drama Saving Mr. Banks chronicles Walt Disney's fourteen-year effort to convince P.L. Travers, author of the original Mary Poppins books, to give over the movie rights. The film's got "awards season" written all over it: John Lee Hancock (The Blind Side) directs from a Black List script by Kelly Marcel, with Tom Hanks and Emma Thompson in the leads. The first official image has just hit the web, and you can check it out after the jump.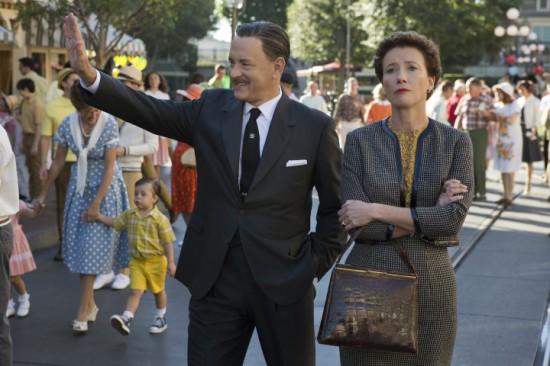 The stars have also previously caught in unofficial set photos, which you can see here.
The new photo isn't exactly action-packed, but it does a great job setting up the uneasy relationship between Disney and Travers. He looks perfectly comfortable in the colorful fantasyland he's created, while she couldn't look more ill at ease. No wonder the struggle over the Mary Poppins rights was such a tough one.
In the accompanying interview, Thompson called Travers "the most difficult person I've ever played":
She was a woman of quite eye-watering complexity and contradiction. Often I play people who are controlled by some very clear guiding moral principles. [...] There are very clear moral prisms these women pour life through, and I understand that very well. And [Travers] was not like that at all. She was far more chaotic and confused and morally various.
Hanks, for his part, has previously said that his portrayal of Disney would not be a "warts and all" one:
I don't think you'd be able to because he was not a warty guy. There were the labor issues in the Forties and stuff like that but by an large, no. I mean he died of lung cancer because he smoked about three packs a day and we will be showing him sort of smoking. So it's going to be that kind of thing.
Saving Mr. Banks is in the interesting position of being set up at the very same studio that it's exposing. The fear when Disney picked up the project was that they'd sanitize the story to cast their founder in a glowing light. Hopefully Hanks, Thompson, Hancock, and Marcel have managed to keep some of the tale's pricklier edges.
Saving Mr. Banks opens December 13.