Mondo Reveals Comic-Con Plans Plus Exclusive Reveal Of Olly Moss' 'Howl's Moving Castle'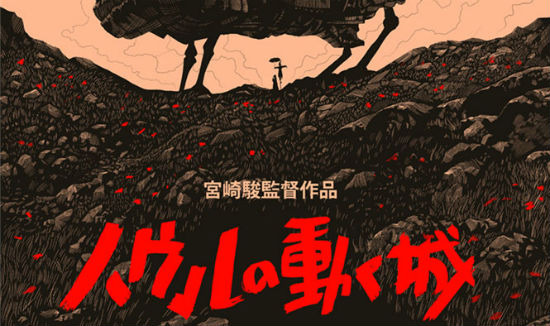 Fans of comics, toys, TV, movies and video games have come to consider San Diego Comic-Con almost like Christmas. We wait patiently all year, and then four days in July pack in months worth of awesome. However, while we've come expect that level of crazy for the traditional pop culture stuff, the last few years have done the same for the poster world too. That's in large part because Mondo has chosen to release dozens of exclusive posters at the event as well as provide some incredible opportunities to fans. This year seems like it will trump them all.
Artists Drew Struzan, Martin Ansin and Olly Moss will all be at the convention signing brand new posters of theirs for The Dark Tower, Conan the Barbarian and Spirited Away and Howl's Moving Castle, respectively. Plus, each is being sold as a pre-order THIS WEEK to avoid crazy lines. Mondo is also releasing four new Pacific Rim posters, and that's just the start.
Below, read all the details on the releases and check out our exclusive reveal of the Moss' Howl's Moving Castle.
Here's our exclusive debut of Howl's Moving Castle by Olly Moss.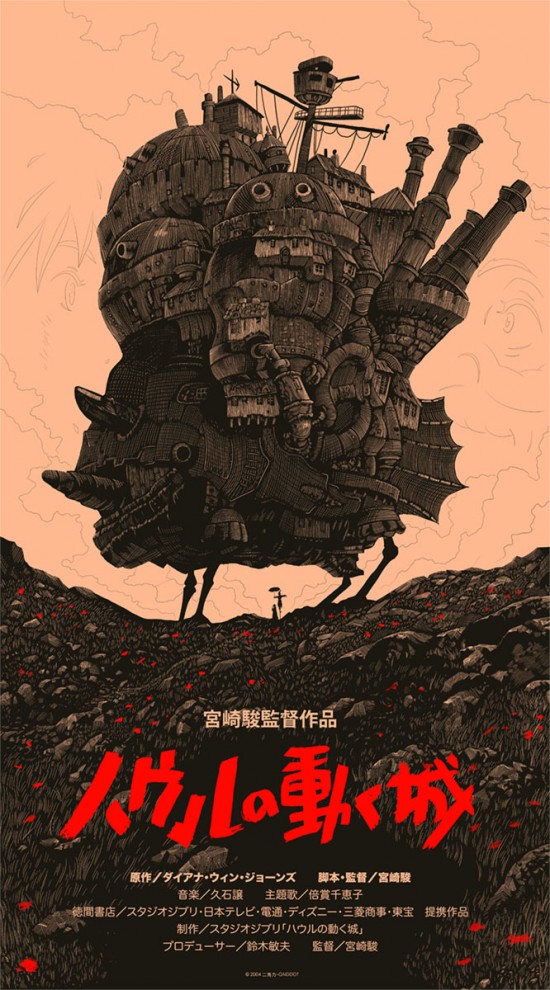 That's a variant, 20 x 36, in an edition of 225. He's also releasing a similar looking Spirited Away piece in the same style. Each costs $90. (Plus, regular editions will go online to everyone after Comic-Con.)
Those two pieces, along with the highly anticipated Drew Struzan poster for Stephen King's The Dark Tower (24x36, edition 450, $275) and Martin Ansin's Conan the Barbarian (24x36, regular edition 450 and $50, variant edition 225 and $75) can all be pre-ordered by following @MondoNews this Friday, July 12. Purchase includes a signing, at Comic-Con, with each artist. Here's the catch though. You must be in-person for pick-up at the event. Don't buy the poster online Friday unless you will be at Comic-Con on the assigned day. For all the details on that, visit the Mondo blog.
Here are the Struzan, thanks to Badass Digest, Moss's Spirited Away, from THR, and Ansin's Conan, thanks to Collider. We'll update with the rest when they're posted.
Also being released at Comic-Con are four new posters for Pacific Rim. Two of which are by Kevin Tong and Vania Zouravliov, which we correctly predicted last week.
The Tong is a 24x36 in regular (375/$45) and variant (200/$75/not pictures) editions. The Zouravliov is also a 24x36 in multiple colorways, each an edition of 145. Cost is $50.
They'll also be releasing two more pieces by newcomer to the Mondo family, Ash Thorp, that work in tandem with each other, but also on their own. There'a a Kaiju and Jaeger image, each in an edition of 350 and costing $50. All four of these posters will be on sale, at Comic-Con, on preview night Wednesday July 17.
Can you see them? Yes. Very, very soon, along with the rest of the images. Mondo is debuting all of the above posters online on various sites Wednesday morning so pop over to @MondoNews to find them, or just come back here later today and we'll update with all the images.
And guess what? That's only about half of what Mondo has in store at Comic-Con this year. Before each day, they'll release a schedule for everyone to check out to see those, but it won't happen until closer to the Con.
Long story short? VERY big things happening with Mondo and Comic-Con this year. It really is a holiday for poster fans.