Stellan Skarsgard Boards Disney's Live-Action 'Cinderella'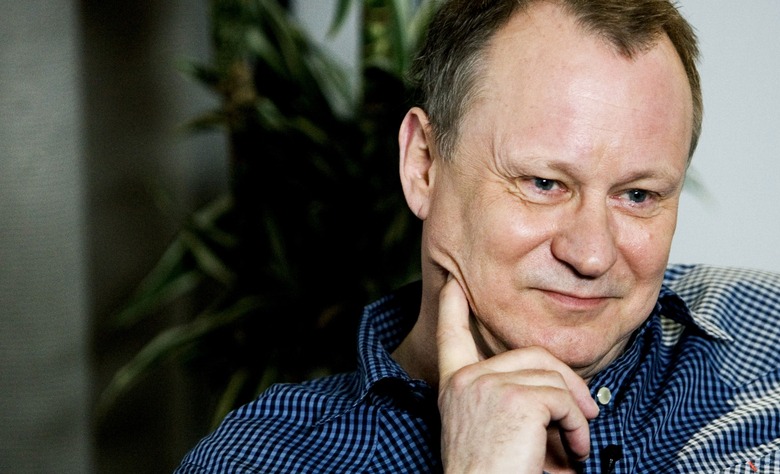 As the star of several Lars Von Trier films, including the upcoming Nymphomaniac, Stellan Skarsgard is no stranger to edgy adult material. But one of his next roles will see him going in a much more family-friendly direction.
The Swedish actor is in talks to join the starry cast of Disney's Cinderella, a live-action reimaging of the classic fairy tale. Cate Blanchett, Helena Bonham Carter, Lily James, and Richard Madden are also set to star, with Kenneth Branagh directing. Hit the jump to find out whom Skarsgard is playing.
Details on Cinderella's script, written by Aline Brosh McKenna (The Devil Wears Prada) and rewritten by Chris Weitz (Twilight: New Moon), are scarce, but as far as we know it'll follow most of the same beats as the original fable. At the very least, it'll feature most of the same characters.
James plays the title character, an orphan living with her stepmother (Blanchett) and stepsisters (Sophie McShera and Holliday Grainger). Bonham Carter plays the fairy godmother, and Madden the handsome prince. THR reports that Skarsgard will play the king's adviser, a grand duke with ulterior motives. The casting suggests that it'll be the grown-ups, not the lovestruck kids, who'll be the stars of this version, but maybe Disney just wanted cheap young talent and I'm reading way to much into Branagh's choices.
The casting puts Skarsgard in business with Disney yet again, following supporting roles in the studio's Pirates of the Caribbean and Marvel franchises. He'll reprise the part of Dr. Erik Selvig once again for November's Thor: The Dark World. Outside that studio, he'll also appear in Romeo and Juliet, the drama The Railway Man, and von Trier's Nymphomaniac in the near future.
Cinderella shoots this fall in London for a March 13, 2015 release. Simon Kinberg, Allison Shearmur, and David Barron will produce.