Dwayne Johnson Offers First Peek At 'Hercules' Set And Costumes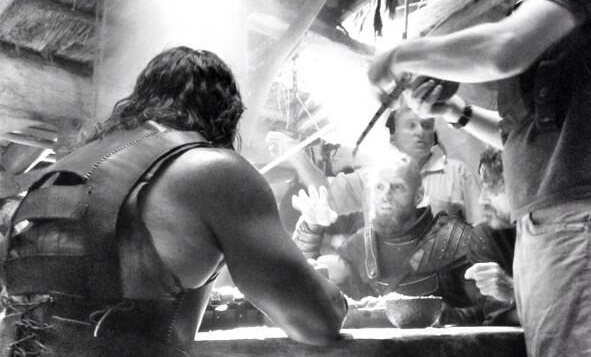 After years of trying, Brett Ratner is finally getting his chance to bring a legendary Greek hero to life. Production is currently underway on Hercules, based on Steve Moore's graphic novel Hercules: The Thracian Wars.
With the release date still a year away, it's unlikely we'll get to see real footage any time soon. But thanks to star Dwayne Johnson, we have our first peek at some of the props and costumes, along with the set. Hit the jump to check out the images.
3 hr daily process w/ multi-time Academy Award nominated hair & make up artists. Love the transformation.. #HERCULES pic.twitter.com/LEpPXouae1

— Dwayne Johnson (@TheRock) June 11, 2013
Hair/make up trailer – HERCULES. Asked how I got my shoulder slice scars. From a satisfied woman w/ long ass nails;) pic.twitter.com/H1sJMw8Bdc

— Dwayne Johnson (@TheRock) June 21, 2013
The actor has also expressed his gratitude to the film's designers by showing off their work.
HERCULES. We have the best film designers in the world. Respects the mythology w/ great detail. #SonOfZeus #12Labors pic.twitter.com/sjagGECfah

— Dwayne Johnson (@TheRock) June 22, 2013
"Become the man you were born to be.." ~ Hercules #ThracianWars pic.twitter.com/Ognt2DM9bP

— Dwayne Johnson (@TheRock) July 9, 2013
The most revealing image so far is this one of Johnson in costume and on set. Unfortunately, he has his back to the camera here so we don't get a good look at the character. But it's obvious that, with arms bigger than most people's legs and legs bigger than most people's waists, Johnson looks appropriately beefy.
The man sitting across from him in the photo appears to be Headhunters star Aksel Hennie, who plays Hercules' ally Tydeus. Though it's tough to tell from this angle.
Our HERCULES set created by award winning designer Jean-Vincent Puzos w/ great detail. I sit in awe.. #ThracianWars pic.twitter.com/s0ZDJY058S

— Dwayne Johnson (@TheRock) July 7, 2013
Written by Ryan Condal and rewritten by Evan Spiliotopoulos, follows Hercules as he and his band of mercenaries as they tackle their trickiest job yet, which forces Hercules to reconsider his own life and beliefs. Unlike the Hercules of myth, Ratner's version has no divine heritage — he's just an ordinary mortal with a reputation so fearsome, it's downright legendary.
Ian McShane, Joseph Fiennes, Rufus Sewell, John Hurt, Peter Mullan, Reece Ritchie, Tobias Santelmann, Ingrid Bolsø Berdal, and Rebecca Ferguson also star in the sword-and-sandal epic. Hercules opens July 25, 2014.