'Austenland' Trailer: Jane Austen Fanatic Keri Russell Seeks Her Own Mr. Darcy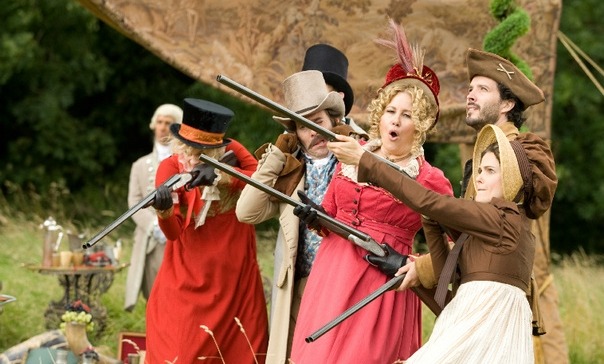 The elaborate courtship rituals of Jane Austen's England bear little resemblance to the no-strings hookups and domestic partnerships of the 21st century dating scene, but that hasn't stopped modern romantics from hoping to find a Mr. Darcy of their very own. In the Sundance romcom Austenland, one particularly hardcore fan gets an opportunity to do just that.
Keri Russell stars as Jane Hayes, who splurges on a trip to an Austen-themed resort complete with Regency costumes, era-appropriate activities, and even handsome suitors (played by paid actors). But the experience isn't all she'd hoped, and in her disillusionment she finds herself increasingly drawn to "stableboy" Martin (Bret McKenzie of Flight of the Conchords). Watch the first trailer after the jump.
Austenland has kind of an odd mix of talent behind it. It's the directorial debut of Jerusha Hess, writer of Napoleon Dynamite, and it's the first film produced by Twilight author Stephenie Meyer not based on any of her own books. This project doesn't seem to bear much resemblance to either of their oeuvres, but I suppose if you mixed the two you might get a fluffy romcom like this one.
Though it looks broader and messier than anything Austen ever wrote, Austenland should trike a chord with her fans all the same. Jane and Martin's romance looks sweet, if predictable, but then it's not as if anyone who ever read Pride & Prejudice was shocked to find that Elizabeth and Mr. Darcy end up together.
Austenland premiered at Sundance this year to so-so reviews. Not many were outright vicious, but a few, like Film.com, found it too "frothy and unsubstantial," while JoBlo complained that it was "utterly conventional." On the brighter side, THR enjoyed its "clever" take on the Mr. Darcy type, and several reviewers, including those at Film School Rejects and The Guardian, praised Jennifer Coolidge's hilarious supporting turn as a fellow theme park guest.
Look for the film in theaters August 16. JJ Feild, James Callis, Jane Seymour, and Georgia King also star.