Star Wars Bits: 'Episode VII' To Film At Pinewood, Darth Maul Wants To Return, And William Shakespeare's Star Wars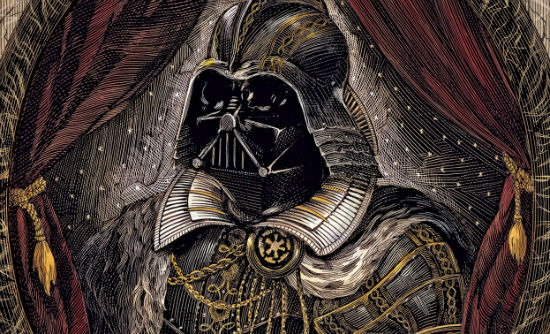 A confirmed filming location for Star Wars Episode VII, a possible actor for the film, two new languages and even a national award. This edition of Star Wars Bits is everywhere. After the jump, read about the following:
Star Wars Episode VII is confirmed to shoot at Pinewood Studios. 
Lord of the Rings star Dominic Monaghan hinted he might be up for Star Wars Episode VII.
Gamers can now play as an Ewok in Star Wars: The Old Republic.
Star Wars Episode IV: A New Hope has been dubbed into Navajo.
Ray Park would love to reprise the role of Darth Maul.
George Lucas is going to be given the National Medal of Arts.
Darth Vader is once again a spokesperson, this time for Pringles.
A new book has translated Star Wars into Shakespeare; see a trailer.
Back in May, StarWars.com confirmed J.J. Abrams' Star Wars Episode VII would be shooting in the United Kingdom, and recently Deadline confirmed the exact location. It's Pinewood Studios, best known for housing most of the James Bond films. Disney has been shooting a lot of films there recently, such as the Marvel movies, which is why Episode VII will break from the Star Wars tradition of filming at Elstree Studios.
While we don't yet know which actors will be taking up residence at Pinewood to film Episode VII, another one has offhandedly thrown his hat into the mix. Dominic Monaghan, star of Lord of the Rings and Lost, was asked if he was up for a part in the film and gave an awkward, non-committal answer to Desde Hollywood (via Bleeding Cool).
Long have Star Wars fans dreamt of playing a video game as an Ewok. Actually, that's not true at all, but if you are an accomplished player of Star Wars: The Old Republic, Polygon is reporting a new addition has just been made to the game. You can now play as an Ewok named Treek...if you have 1 million credits and a legacy level of 40. Here's a little video:
The Wrap reports Star Wars Episode IV: A New Hope is being dubbed into Dine, the native language of the Navajo. The collaboration was a three-year process between Lucasfilm and the Navajo Parks and Recreation group of Arizona. Read more about the historic translation at that link or you can even watch some of it at this link.
Ray Park, the actor who played the iconic Darth Maul in Star Wars Episode I: The Phantom Menace, is well-aware how Lucasfilm's deal with Disney opens up the door for a reprise of his character. Speaking to MTV Geek, the actor (who also plays Snake Eyes in the G.I. Joe films) said "Just give me food and water, and I'm there." Personally, I think a Darth Maul spinoff film sounds like a smashing idea.
In an honor that's long overdue, next week George Lucas will be at the White House to receive the National Medal of Arts along with several others. Read the full list at The Wrap, and here's Lucas' official citation:
By combining the art of storytelling with boundless imagination and cutting-edge techniques, Mr. Lucas has transported us to new worlds and created some of the most beloved and iconic films of all time
Who could forget Darth Vader selling Volkswagons during the Super Bowl a few years back? Well he's working the pitchman side project again; this time for Pringles Chips. The below video won a contest Pringles held looking for new commercial ideas. Thanks to THR.
Finally, just this week author Ian Doescher released William Shakespeare's Star Wars, a book that translates A New Hope into a play with the unmistakable language of the literary legend. You can read much more about it at this official link, but, here's a trailer .