Sony Invites Military Personnel To See 'White House Down' For Free On July 4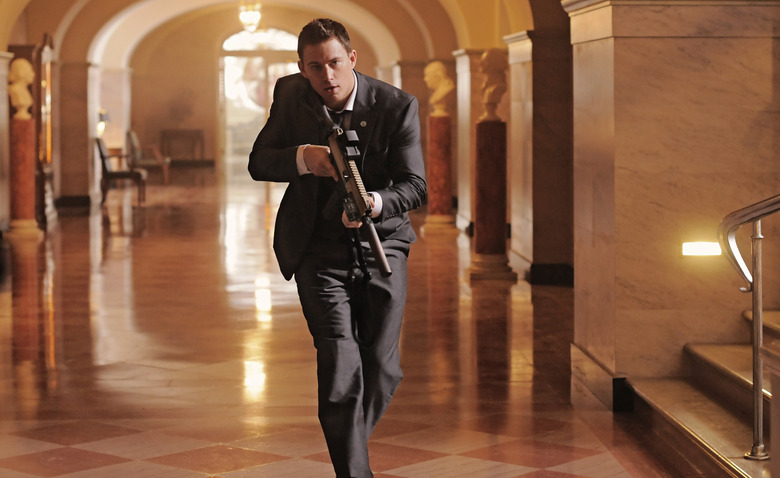 In America, July 4 is synonymous with several things: Barbecue, fireworks, baseball, apple pie and Roland Emmerich movies. That last one usually means his 1996 hit, Independence Day, but this year an equally patriotic, kick-ass action film from the director is in theaters: White House Down. To simultaneously help promote the fledgling film, and do something awesome for American military personnel, Sony has partnered up with several major theater chains to offer free admission to the film to any active military personnel or veterans on July 4.
The theater chains in question are Regal Entertainment Group, AMC Theatres, Cinemark Theatres and Carmike Cinemas.
Rory Bruer, the president of worldwide distribution for Sony, said the following.
We think 'White House Down' is the summer's best action movie, so on July 4th, we're inviting all active duty and veteran military personnel to bring a guest and see it for free. It's a great way to celebrate the holiday and to honor and thank the troops for their service to our country.
After opening at #4 with under $25 million last weekend, White House Down is likely to be thought of as a bomb. Many blame the fact it was the second White House siege movie on the market (Olympus Has Fallen had a bigger opening weekend) or the incredible competition it had on multiplex screens. Both of those were certainly factors, however, I feel an unsung culprit was that awful first trailer. (Watch it here.) It sold an ultra-serious film that seemed to be more dramatic than action-packed. It wasn't until the later trailers that the marketing embraced the film's true nature: fun, and funny. However, that first trailer was everyone's first impression and might have turned off lots of people almost immediately. If this was released as the first trailer, I bet it would have at least opened over $30 million.
That being said, Sony has a really great movie on their hands and they're doing a wonderful thing with these free screenings on July 4. If the members of our nation's military enjoy the movie, that's a huge win even – without the receipts to prove it.
Source: The Wrap