'Cloudy With A Chance Of Meatballs 2' Trailer: The Food And Animal Puns Are Unstoppable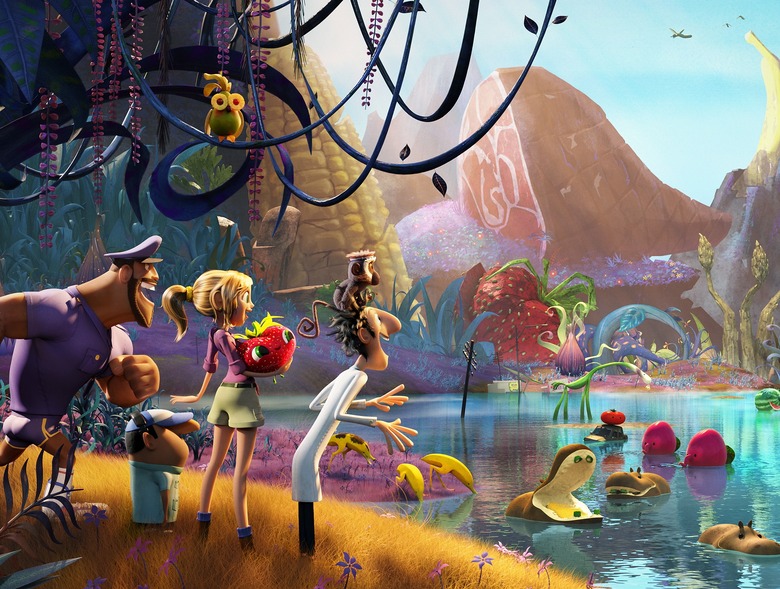 The first teaser for Cloudy With a Chance of Meatballs 2 introduced an island overrun by food/animal hybrids — the sort of place a hungry Jules Verne might scribble down in a notebook. A featurette showed off more of the "foodimals," and now the full trailer for the film serves up a few additional glimpses of the weird beasts.
This trailer also gives more of a lead-in to the story, telling how the events of the first film are followed up in this sequel, and throws out quite a few more food puns.
I loved the first Cloudy, in part because I came to it knowing almost nothing of what the film would offer. This time, the trailers are relying so heavily on moments that recall the spirit of the original that I can't help feeling like this is an imitation primarily meant to rope in the kids. But perhaps the trailers are just playing up the recognizable elements to draw people in, and the film will have more character of its own. We'll find out in a couple months.
Yahoo has the trailer. Bill Hader, Anna Faris, Will Forte, Andy Samberg, and Kristen Schaal voice characters. The film opens on September 27th, 2013.
Cloudy with a Chance of Meatballs 2 picks up where Sony Pictures Animation's hit comedy left off. Inventor Flint Lockwood's genius is finally being recognized as he's invited by his idol Chester V to join The Live Corp Company, where the best and brightest inventors in the world create technologies for the betterment of mankind. Chester's right-hand-gal – and one of his greatest inventions – is Barb (a highly evolved orangutan with a human brain, who is also devious, manipulative and likes to wear lipstick.) It's always been Flint's dream to be recognized as a great inventor, but everything changes when he discovers that his most infamous machine (which turns water into food) is still operating and is now creating food-animal hybrids – 'foodimals!' With the fate of humanity in his hands, Chester sends Flint and his friends on a dangerously delicious mission, battling hungry tacodiles, shrimpanzees, apple pie-thons, double bacon cheespiders and other food creatures to save the world again!