TV Bits: 'The Walking Dead', 'Dexter', 'SNL', 'Breaking Bad', 'Under The Dome'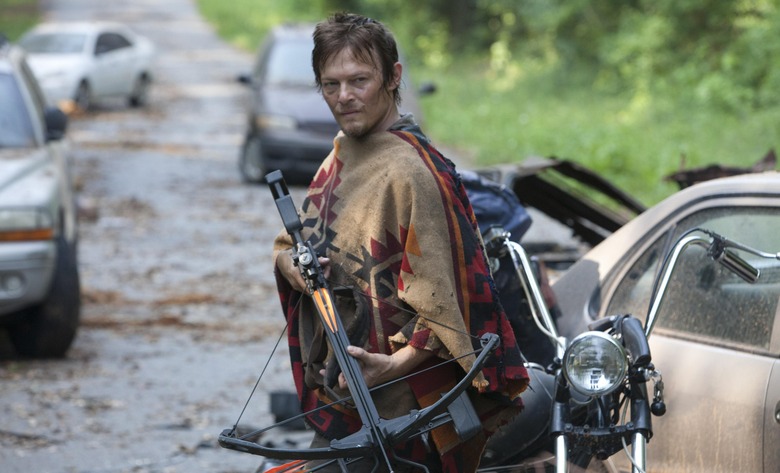 We present to you a few TV-related odds and ends to usher you into the holiday weekend. Or holiday day, if your employers don't give you the 5th off. Or the second half of a plain old work week, if you're not American. Anyway, after the jump:
Game of Thrones casts a key role for Season 4
Falling Skies and Orange Is the New Black get renewed
Happy Endings reaches a not-so-happy... well, you know
The Season 8 premiere of Dexter is online for free
Fred Armisen confirms he's leaving SNL
NBC is developing a sequel to The Bible
... and another, non-live sketch comedy show
Fox eyes John Mulaney's sitcom after NBC passes
Aaron Paul is so happy about the Breaking Bad finale
What's coming in the season premiere of The Walking Dead?
Hannibal wants David Bowie for Season 2
Stephen King defends the changes to Under the Dome
Thought the Game of Thrones cast was big before? Get ready to meet still more new characters in Season 4. The HBO fantasy series has just cast Pedro Pascal (Graceland) as Oberyn Martell (a.k.a. The Red Viper), a prince of Dorne who still nurses a grudge against Ser Gregor Clegane for murdering his sister Elia Martell during Robert Baratheon's takeover of the Iron Throne.
If none of those words mean anything to you now, don't worry — I'm sure HBO will be happy to offer some sexposition to fill us in. Game of Thrones returns next year. [TV Line]
Midway through its third season, Falling Skies has been renewed by TNT for a fourth. The next season consist of 10 episodes, to air in Summer 2014.
If that seems kinda quick, it's nothing compared to Netflix's eagerness to get more of Jenji Kohan's Orange Is the New Black. The company has ordered another 13 episodes of the prison drama, which doesn't even hit the streaming service until July 11. The new episodes will hit in 2014. [Deadline]
Happy Endings is no more. Though there was some hope after ABC declined to renew the series that another network might pick it up, the actors' contracts have now expired and the series is dead for good. Roof stoof. [TV Line]
The final season of Dexter kicked off this past weekend, but if you missed it, don't despair — Showtime's posted the full-length season premiere online for free. Watch it below.
Dexter airs Sunday nights at 9. [Showtime]
As has long been suspected, Fred Armisen is done with Saturday Night Live. "I think it's clear. I didn't do any kind of official announcement, but I really felt like it was obvious," he said. "It felt like a very healthy good time to do it." Armisen's last appearance as a regular cast member was on the Season 38 finale, which aired in May. [Splitsider]
As Armisen leaves SNL behind, NBC's doubling down with another sketch comedy series. The goal is to build a flagship franchise which will usher new comedy stars onto the NBC lineup, in the same way that SNL led to Amy Poehler, Tina Fey, Jimmy Fallon, and others getting their own NBC shows.
Unlike SNL, though, the new series will not be live, and it won't involve Lorne Michaels. Instead, Lou Wallach, the former VP of original programming at Comedy Central, is developing the show. The search for writers and performers is already underway all across the country. [THR]
We've seen some pretty strange sequel ideas in the past, but how does one sequelize the Bible? I guess NBC is about to figure it out. The network has picked up the follow-up to History's miniseries The Bible. (You know, the one with the Satan that maybe-kinda-sorta looked like President Obama.) Mark Burnett and Roma Downey will return to produce the new series, titled A.D.: Beyond the Bible. No premiere date has been set. [Variety]
Meanwhile, one show that NBC didn't want has made its way over to another network. Fox has given a script order to John Mulaney's untitled sitcom, which is loosely based on the comedian's life. If the network likes what it sees, the show will get a six-episode order. [Deadline]
We'll be bummed to see Breaking Bad come to an end, but star Aaron Paul assured fans that the crime drama will go out with a bang.
You guys are going to s–t your pants. [...] Before I read the final eight episodes — the final eight hours of the show — I was thinking to myself that this was so tragic. I can't believe this show is ending. I didn't want it to end but, after knowing how the final eight hours play out, I couldn't be happier with the ending.
Breaking Bad will return for a final eight-episode run on August 11. [Coming Soon]
Months before The Walking Dead's return, a tantalizing reveal drops hints about where Rick and his ragtag team of survivors may find themselves at the start of Season 4. According to anonymous sources, the first episode of the new season will be titled "30 Days Without an Accident."
So, does that mean there'll be a timejump between Seasons 3 and 4? Or that zombie sightings are becoming few and far in between? Maybe we're looking at this all wrong, and it means something else entirely. Find out when the show returns this fall. [TV Line]
Bryan Fuller wants to add a rock star to Hannibal's already stellar cast. "We have reached out to David Bowie to see if he's interested and available," he revealed in a recent interview. "We would love for him to play Hannibal's uncle, who is a character from the literature and in the books."
While Fuller waits to get his answer from Bowie, he's also thinking about whom he wants for Barney, an orderly at the Baltimore State Hospital for the Criminally Insane. Pushing Daisies fans will be particularly thrilled to hear this one: "I would love to bring in Chi McBride, if he's available." [E!]
Some Stephen King fans were disappointed to see that CBS' Under the Dome departed quite a bit from King's original novel, but King himself says he's fine with the new version. "Many of the changes wrought by Brian K. Vaughan and his team of writers have been of necessity, and I approved of them wholeheartedly." He continued:
It's best to think of that novel and what you're seeing week-to-week on CBS as a case of fraternal twins. Both started in the same creative womb, but you will be able to tell them apart. Or, if you're of a sci-fi bent, think of them as alternate versions of the same reality.
Read the rest of his defense on his blog. [via Cinema Blend]