'Sharknado' Trailer: It's Raining Sharks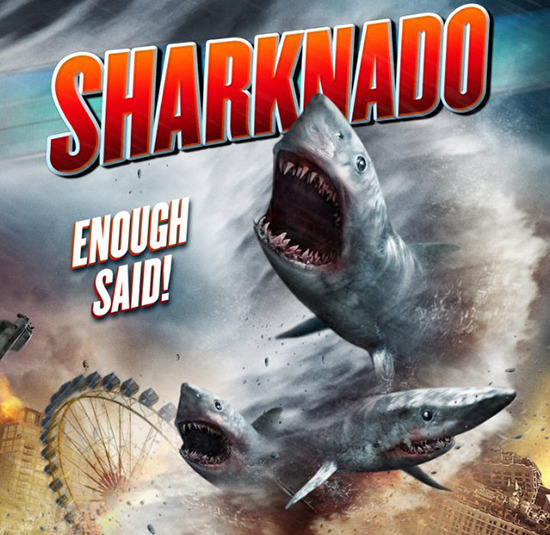 If you have to ask what Sharknado is about, perhaps it's time to brush up on your reading skills. The title may be an ungainly combination of "shark" and "tornado," but it does get the idea across. There's some plot, I suppose, as suggested by this synopsis: "Super tornadoes suck sharks up from the ocean floor, hurling them at LA." A tornado in LA? That's just crazy.
But who cares about the story? There's a tornado full of sharks. As the poster says, enough said. Now there's a trailer, which you can see below.
(If that embed shows up very small, click here for a larger version.)
Sharknado plays SyFy on July 11. Anthony C. Ferrante directed. Ian Ziering and Tara Reid will be menaced by sharks in the air.
It's good, I suppose, that exploitation is alive and well on television. SyFy and the direct-to-DVD label Asylum (which will put Sharknado on disc) have really invested in the idea of roping in customers with silly concepts like this. It's a shell game that has worked in cinemas for decades, and these two companies keep it going strong. One of SyFy's execs managed to say this about Sharknado, and keep a straight face while doing so:
These are not comedies. They have that outlandish, campy, over-the-top tone, but the people involved are real and want to survive. If you were in a situation where all of a sudden you have sharks falling from the sky, once you got over the insanity of it, you'd try to survive.
All of which is pretty funny coming from a guy with a fancy title at the company that also gave us Independence Daysaster.