'Delivery Man' Trailer: Vince Vaughn Is Father Of Many, Guardian Angel For Some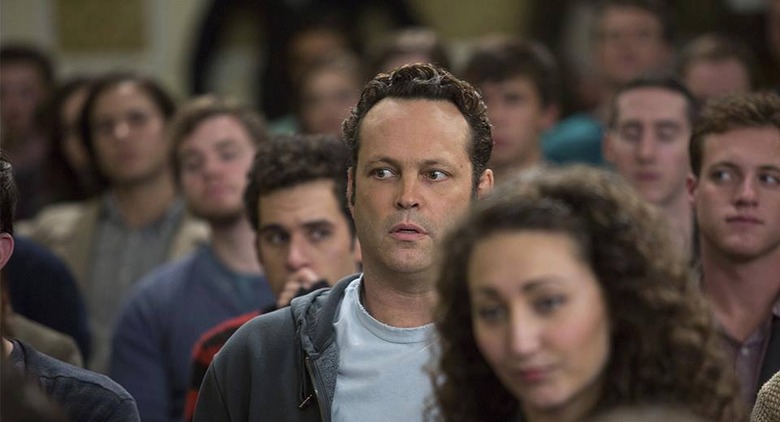 Many a movie has centered on a man learning he has a kid he knew nothing about. Far fewer have followed what happens when a guy discovers he has 533 kids he's never met.
Directed by Ken Scott based on his own French-Canadian comedy, Delivery Man stars Vince Vaughn as aimless 40something David Wozniak, who gets the unexpected news that he's fathered 533 kids thanks to a mix-up at the clinic years ago. Once the initial shock wears off, he becomes curious about his offspring and starts to serve as a sort of guardian angel for several of them. Chris Pratt and Cobie Smulders also star. Watch the new trailer after the jump.
Vaughn's known for playing overgrown frat-boy types, but he seems to be working in a more subdued mode here. Or perhaps his character is just numb from the shock. Who wouldn't be?
The studio revealed a brief teaser a couple of months back, but this is the first full-length trailer we've gotten for the film. So far, it looks like a sweet, funny crowd-pleaser. The story seems to head down a predictable path, but that's not such a bad thing. I'll admit to getting the warm fuzzies when Dave got all excited about his actor son (Jack Reynor of Transformers 4) getting good news.
It helps that Delivery Man boasts an awesome cast, too. Chris Pratt seems to have a strong supporting role as David's lawyer and friend. Cobie Smulders has somewhat less to do in the trailer as David's love interest, but hopefully the actual film will put her and her considerable comic chops to good use. Britt Robertson and Bobby Moynihan also star.
Delivery Man opens shortly before Thanksgiving, on November 22 — just in time to remind you that no matter how big and unwieldy your family is, the situation could be much, much worse.