'The Boxtrolls' Teaser: Laika's Next Celebrates A Very Unconventional Family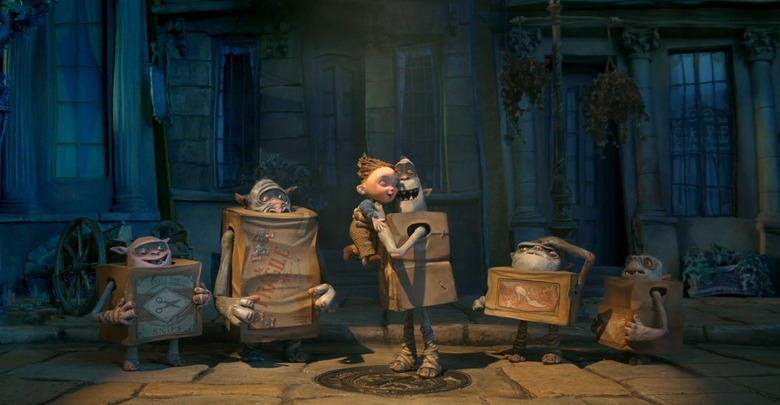 With only two completed feature films under its belt, Laika's quickly proving itself to be one of the smartest, most creative animation studios working today. Coraline and ParaNorman were wonderful stop-motion pictures gentle enough for kids, but sharp enough for adults. Now an early teaser indicates that their third release, The Boxtrolls, is shaping up to be the same way.
Based on a book by Alan Snow, the film follows a community of monsters living under the streets of Cheesebridge. Despite their fearsome reputation among humans, the Boxtrolls are actually quite sweet, and are in fact raising abandoned orphan (voiced by Isaac Hempstead-Wright, a.k.a. Bran from Game of Thrones) as one of their own. Watch the first brief teaser after the jump.
Kudos to Laika for casually acknowledging the existence of gay parents. Lots of kids' films focus on unconventional families of one kind of another, but it's still rare to see gay dads or lesbian moms in mainstream family entertainment.
That aside, this just looks damn fun. As with Laika's other pictures, The Boxtrolls' blend of stop-motion and CG lend the visuals a pleasantly homespun quality, and the playful humor is easy to love. Plus, there's not one stale pop culture reference to be found. The only downside to this delightful teaser is that it just reminds us how long we have to wait for the actual movie. The Boxtrolls doesn't open until September 26, 2014. (Sadface.)
The new 3D animated feature from Laika Studios tells the tale of the Boxtrolls, monsters who live underneath the charming streets of Cheesebridge, who crawl out of the sewers at night to steal what the townspeople hold most dear: their children and their cheeses. At least, that's the legend the townspeople have always believed. In truth, the Boxtrolls are a community of lovable oddballs who are raising as one of their own an abandoned and orphaned human boy named Eggs. When the Boxtrolls are targeted by a villainous exterminator who is bent on eradicating them, Eggs must venture aboveground to save them, where he teams with an adventurous young girl to save not only the Boxtrolls but the soul of Cheesebridge.