'Turbo' Trailer #3: They're Letting Snails In The Indy 500 Now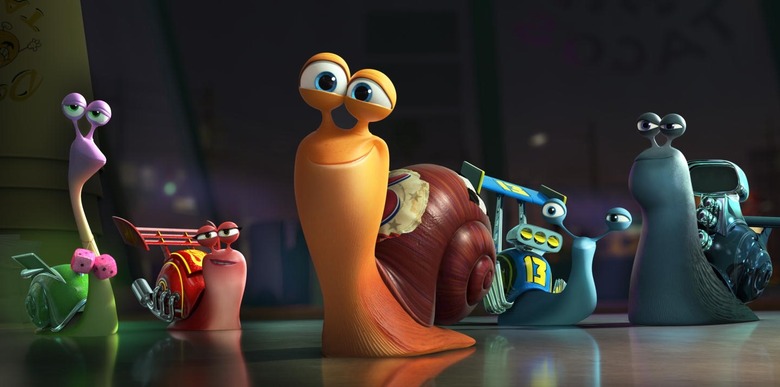 DreamWorks Animation has already gotten us to believe that pandas can be kung fu masters, dragons can be man's best friend, and cats can be swashbuckling outlaws. In that light, I guess an snail competing in the Indy 500 isn't that much of a stretch.
Turbo stars Ryan Reynolds (or his voice, anyway) as an ordinary snail who dreams of going fast. He gets his wish when a freak accident grants him superpowers, and with the support of his pals manages to enter the world-famous race. The new trailer offers a look at some of Turbo's human supporters, including optimistic Tito (Michael Peña), pragmatic Angelo (Luis Guzmán), and brash Kim-Ly (Ken Jeong, playing a woman). Watch it after the jump.
I could hardly tell Turbo's racer gang apart in the last trailer, and I could've done without Jeong's Kim-Ly in this one. But Tito and Turbo's friendship looks utterly endearing. I totally "aww"-ed out loud when Tito provided Turbo with a little tortilla blanket. Once I realized Tito wasn't trying to wrap Turbo to eat him, that is. Turbo's brother Chet (Paul Giamatti) is shaping up to become one of my favorites, too.
In addition to the stellar talents already mentioned, Turbo also stars Bill Hader as Indy 500 champ Guy Gagne; Samuel L. Jackson, Maya Rudolph, Snoop Dogg, Ben Schwartz, and Michael Bell as Turbo's snail buddies; and Michelle Rodriguez, Richard Jenkins, and Kurtwood Smith as other assorted humans. The film lands July 17.
From the makers of Madagascar and Kung Fu Panda, TURBO is a high-velocity 3D comedy about an underdog snail who kicks into overdrive when he miraculously attains the power of super-speed. But after making fast friends with a crew of streetwise, tricked-out es-car-goes, Turbo learns that no one succeeds on their own. So he puts his heart and shell on the line to help his pals achieve their dreams, before Turbo-charging his own impossible dream: winning the Indy 500.