'Passion' Trailer: Rachel McAdams And Noomi Rapace Twisted In Violent, Sexual Mind Games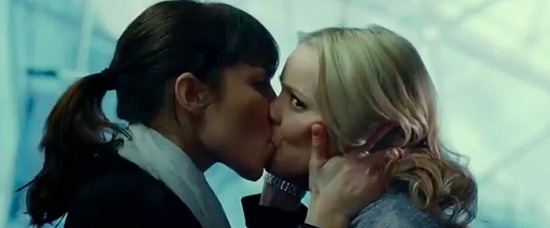 Brian De Palma returns with Passion, starring Rachel McAdams and Noomi Rapace as a successful exec and a new junior player, who become embroiled in sex and violence as corporate power games lead to intense personal manipulation.
In reality, Passion has been kicking around for a while, as it started doing festival rounds last year. Response has been middling, with many reviews painting it as a thing likely to be best appreciated by devoted fans of the director. Speaking as one of those people, I'm still very curious to see how Passion plays out. While we've featured a couple trailers for the film in the past, here's a US-specific cut meant to promote the film's August opening. 
Passion hits VOD on August 1st and theaters on August 30th.
Brian De Palma returns to the sleek, sly, seductive territory of Dressed To Kill with an erotic corporate thriller fueled by sex, ambition, image, envy and the dark, murderous side of PASSION. The film stars Rachel McAdams (Midnight In Paris, Sherlock Holmes, Mean Girls) and Noomi Rapace (Prometheus, The Girl With The Dragon Tattoo) as two rising female executives in a multinational corporation whose fierce competition to rise up the ranks is about to turn literally cut-throat.