'Fleming' Teaser Trailer: Dominic Cooper Creates James Bond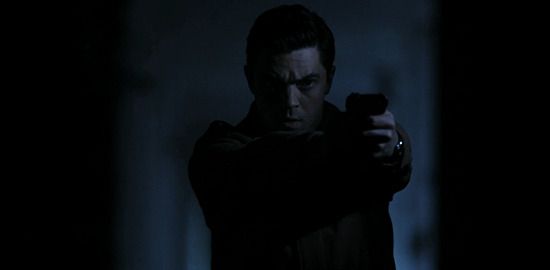 Fleming, a televised mini-series biography of James Bond creator Ian Fleming, is the product of a cooperation between Ecosse Films, BBC AMERICA and Sky Atlantic. The four-part series stars Dominic Cooper as the author and Navy intelligence man, and based on this first teaser there will be some attempt to directly link Fleming's life to the  basic film image of his most famous creation. Check out a bit of footage below.EW has this teaser, which doesn't offer much, but does let us know precisely what audience Fleming (which, by the way, is being called a working title) hopes to draw:Mat Whitecross (The Road to Guantanamo) directs; John Brownlow (Sylvia) and Don MacPherson (Entrapment) scripted. Here's a description of the show:
Fleming takes a no holds barred look at Ian Fleming, the man behind the James Bond legend whose real life was as exciting, eventful and sexually charged as his famous creation. Dominic Cooper (The Devil's Double, An Education, The History Boys, Mamma Mia) will play Ian Fleming, a charming, sophisticated maverick whose dilettanti, pleasure seeking life was turned around by WWII and led to the creation of the best known spy the world has ever known. The outbreak of WWII saw a young Fleming as an unsuccessful stockbroker already with a failed army career behind him, living off his rich family while indulging his passions of alcohol, erotic literature and sexual conquests.
But having been forced into Naval Intelligence through family connections, Fleming found a calling. Utilizing his vivid imagination, charm and mischievous sense of humor he was responsible for some of the most outrageous counter intelligence missions against the Nazis, full of danger and intrigue, the experience of which would form the basis of the Bond books. Set against the permissive society of war-torn London, where champagne (and martinis) were always flowing and beds were always being swapped, Fleming explores the early life of the charming, enigmatic creator of 007.