Coming Soon: 'The World's End' Virtual Pub Crawl, Comic-Con Panel And Screening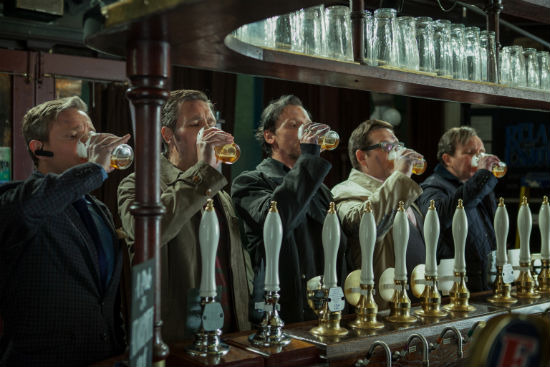 In The World's End, the latest film from Edgar Wright, Simon Pegg and Nick Frost, five friends return to their hometown and attempt to complete a herculean task. One night, one mile, twelve bars, twelve pints of beer. What starts as a simple a night of drunken debauchery becomes a battle for humanity as the friends realize their town has been taken over by robots.
The World's End opens August 23 in the United States and will have a strong presence at San Diego Comic-Con. Wright, Pegg and Frost will have a panel on Friday July 19 followed by an early screening of the film. To guarantee admittance you must follow @TheGoldenMileCC on Twitter and keep up with a virtual pub crawl that starts on 12 of your favorite movie blogs today, which each of us revealing an exclusive bar banner.
For more information, check out the announcement video below.
Here's the video announcing the event.
If you're attending San Diego Comic-Con this year, check out The World's End panel in Hall H on Friday, July 19th with Simon Pegg, Nick Frost and Edgar Wright.  Follow @TheGoldenMileCC to collect 12 limited edition Golden Mile trading cards, as featured in the online scavenger hunt, for a chance to see the film after the panel. The first fifty people to collect all twelve cards across the Gaslamp in San Diego will be guaranteed VIP admittance to the screening. For everyone else, it's first come first serve.
And to keep up with the reveals of all twelve bars, keep an eye on The World's End Facebook.