'You're Next' Next Up For San Diego Comic-Con, Plus A New Poster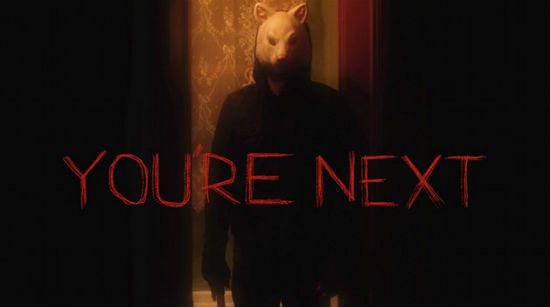 The buzzed-about festival horror film You're Next finally opens August 23, which makes it a perfect candidate for San Diego Comic-Con. We now know the film not only will screen there, it'll partner up with this year's Masters of the Web panel. There's even a new poster to promote the movie.
You're Next, written by Simon Barrett and directed by Adam Wingard, takes place at a family reunion that is terrorized by masked home invaders. Starring Sharni Vinson, AJ Bowen, Nicholas Tucci, Wendy Glenn, Barbara Crampton and others, You're Next is frightening, energetic, gory and totally awesome. Check out the new poster and read about the Comic-Con presence below.
You're Next will screen Wednesday night in San Diego and you can read more about how to get into the screening here.
That screening is sponsored by AMC's annual Masters of the Web panel where attendees can meet and talk with some of the writers from their favorite movie blogs. This year, that panel is horror-themed (hence You're Next) and will feature Ryan Turek (ShockTillYouDrop.com), Evan Dickson (Bloody-Disgusting.Com), Grae Drake (RottenTomatoes.Com), Heather Wixson (DreadCentral.Com), Lawrence Raffel (FearNet.com) and James "Jimmy O" Oster (JoBlo.com). Read more about it here.
Finally here's the new poster for You're Next.