Phil Lord And Chris Miller Reuniting With Sony For 'The Reunion'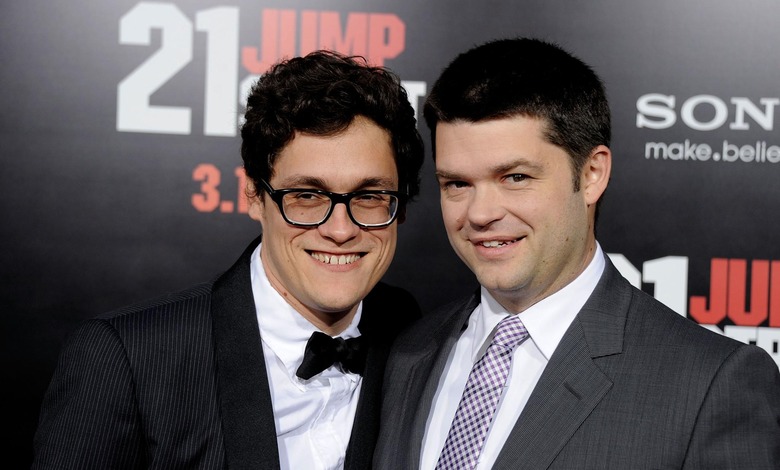 Phil Lord and Chris Miller have only released two feature films to date, but their warm, lively style has already won them tons of fans. Among those fans, evidently, is Sony Pictures. The studio is set to re-team with the filmmaking duo for The Reunion, a new comedy being scripted by Miller. Hit the jump for more details.
Variety got the scoop on the new project. Lord and Miller's relationship with Sony started with their directorial debut Cloudy With a Chance of Meatballs, and then continued with 21 Jump Street. Their next effort, The Lego Movie, is set up at Warner Bros. However, they'll return to the Sony fold shortly after with 22 Jump Street and then The Reunion.
As far as we know, the new film will be their first one not based on a pre-existing property — though to be fair, Cloudy With a Chance of Meatballs and 21 Jump Street treated their source material more as starting points than sacred texts. Few details have been revealed about the plot of The Reunion, other than that it'll take place at a high school reunion.
Lord and Miller should know a thing or two about friends that go way back. The pair met at Dartmouth University and have been collaborating ever since. Their first major project together was the animated series Clone High, which ran for one season on MTV. Their other TV credits include episodes of How I Met Your Mother and the upcoming Fox comedy Brooklyn Nine-Nine, starring Andy Samberg and Andre Braugher.
The pair will produce The Reunion as well as write and direct, with Jonathan Kadin and Hannah Minghella overseeing for the studio. No casting has been revealed, but there's plenty of time for that yet. 22 Jump Street is expected to shoot soon to meet its June 6, 2014 release date, which means The Reunion likely won't hit until 2015 at the earliest.
Brooklyn Nine-Nine premieres September 17. The Lego Movie lands next year, on February 7.