'Thanks For Sharing' Trailer: Sex Addict Mark Ruffalo Falls For Gwyneth Paltrow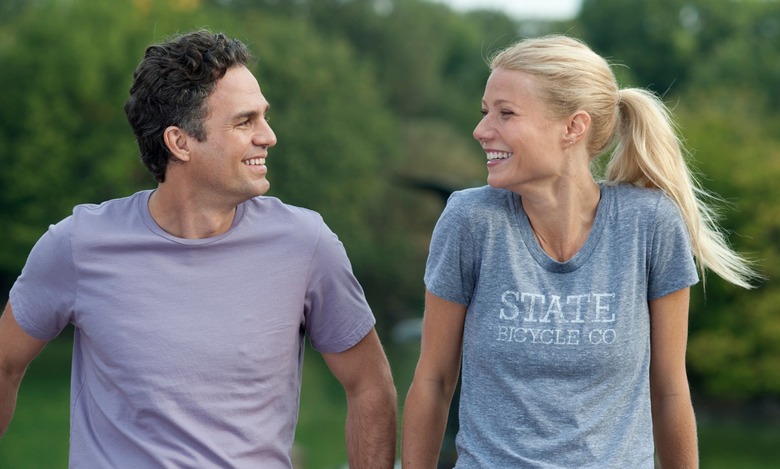 Despite sharing a theme and a location — sex addiction and New York City, respectively — Stuart Blumberg's Thanks for Sharing couldn't look more different from Steve McQueen's Shame. Whereas the latter was a dark, depressing portrayal of one man's downward spiral, the former looks like a lighter, more hopeful affair about a group of sufferers helping each other get better.
One of the afflicted is Adam (Mark Ruffalo), an environmental consultant tentatively wading back into the dating pool after five years sober. He quickly meets Phoebe (Gwyneth Paltrow), a pretty foodie with issues of her own. Tim Robbins, Josh Gad, and Alecia Moore (you probably know her as Pink) play other members of Adam's support group, and Joely Richardson and Patrick Fugit round out the cast. Hit the jump to watch the first trailer.
Thanks for Sharing marks the directorial debut of Blumberg, who was one of the co-writers behind The Kids Are All Right. Based on the trailer, he brings some of the same humor and empathy to this movie that he provided to that one. It'd be easy to milk sex addiction for cheap laughs, but Blumberg seems to treat the subject seriously without pushing it all the way into Shame territory.
Though Ruffalo's ostensibly the lead, I think I'm far more interested in what Gad and Moore are doing. Especially since the responses to Moore — in her biggest live-action movie role to date — have been unanimously positive. Yahoo goes so far as to say she "outshines" her Oscar-winning co-star Paltrow.
Otherwise, the reviews have all over the place. Hey U Guys praised it as "absolutely brilliant" and NPR was "pleasantly surprised," but THR complains that Thanks for Sharing "rolls out too many pat developments to muster much depth." Film.com, in a D+ review, felt that by the ending, the film was "actively sliding off the rails." Ouch.
If you're feeling optimistic, Thanks for Sharing opens September 20.