Weinsteins Begin 2015 Oscar Race, Paying $7 Million For 'The Imitation Game'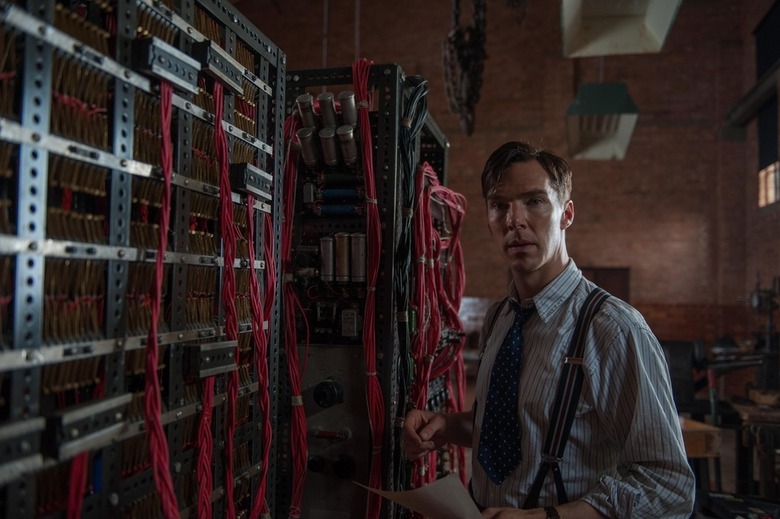 That image above is Benedict Cumberbatch in the lead role of The Imitation Game, in which he plays mathematician Alan Turing. The film is based on a Black List script by Graham Moore, directed by Morten Tyldum, and evidently Harvey Weinstein sees it as a primo Oscar contender to open later this year. The indie mogul just paid $7m for distribution rights at the Euopean Film Market going on as part of the Berlin Film Festival. That, says Deadline, is the most ever paid for an American production at the market there.
Keira Knightley also stars in the film, which hasn't even played in full at the fest or market. Rather, the sale was based on a 15-minute "promo reel" that had several major buyers slavering for the film.
It's easy to see why the Weinsteins might consider the movie a major Oscar contender: Turing is considered both a war hero and a major pioneer in computer science, but he was also prosecuted for his homosexuality, and the film does not have anything that could be called a happy ending. Together with Cumberbatch and Knightley, the project, on paper, has all the hallmarks of an awards contender. If the film is actually as good as the Weinsteins think it is (fingers crossed), we'll all win.
Harvey Weinstein told Deadline,
Teddy Schwarzman and Morten Tyldum took a script that Bob and I loved but were worried about its tone because if you got it wrong one inch to the left or one inch to the right, you would have major problems. These guys got it so perfect, they did a better job than I ever could have. Benedict is unbelievable, and this is going to be a big year for Keira. Between this and Can A Song Save Your Life? she is going to be a major star. We look at this as a major release and we're thrilled to have it.