Cool Stuff: Limited Edition 'Pacific Rim' Posters By Gabz And Odd City; Plus The IMAX Poster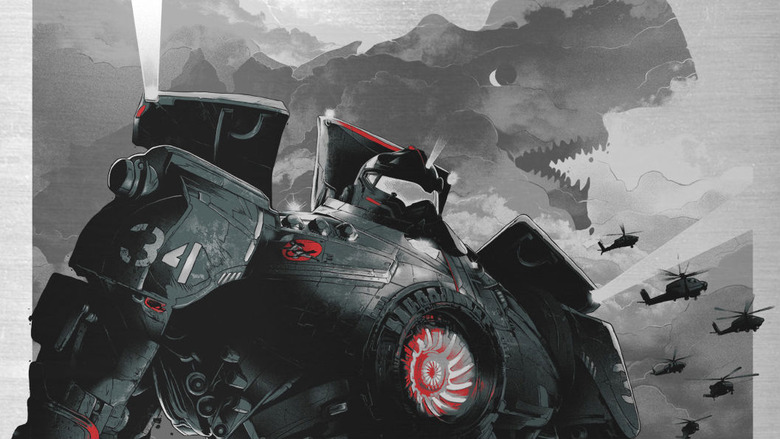 The official trailers and posters for Guillermo Del Toro's Pacific Rim have promised exciting visuals the likes of which we've never seen before. Dark, neon hues blasted over the cities of the world as colorful, 25-story robots battle massive alien monsters. The potential iconography is staggering and new poster company Odd City Entertainment is capitalizing on it.
Odd City Entertainment has secured an official license to create posters for Pacific Rim and just revealed the first of five images leading up to the July 12 release. It's by Grzegorz Domaradzki, aka Gabz, and that'll be followed by more posters by Todd Slater, NE, Gordon Jones and Graham Erwin.
Check out three versions of the Gabz poster below along with the IMAX poster.
Here are the regular, variant and metal editions of Pacific Rim by Gabz and Odd City Entertainment.
All three posters are 24 x 36 inches. The regular is an edition of 225 and costs $55, the variant is an edition of 80 and costs $75and the metal is an edition of 55 costing $275.
So how can you grab one? All five posters will be randomly released beginning on Tuesday, July 2nd and lasting through Thursday, July 11th in the Odd City web store. Gabz will be first. Follow them on Twitter @OddCityNews for updates regarding release and the rest of the posters in the sure to be awesome series.
Also of not, if you live in Chicago, Odd City might be teaming up with Officially Limited for a screening and poster release, so keep an eye on that as well.
Finally, though it's not as limited, if you have tickets to see Pacific Rim in IMAX chances are you might be able to grab one of these gorgeous lithographs by Sergio Grisanti. Read more at the LA Times.