'Free Birds' Trailer: Owen Wilson And Woody Harrelson Are Time-Traveling Turkeys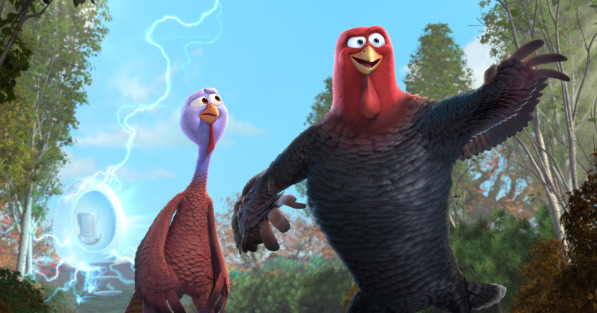 In the States, Thanksgiving is practically synonymous with turkey. Any mention of the holiday automatically conjures images of a big, juicy, oven-roasted bird, and vice versa. Even vegetarians aren't immune to the association — plenty of them nod to tradition with products like Tofurkey.
But as pleasant as it is for us humans to gorge ourselves on tryptophan-laced poultry, you can't blame turkeys for wishing they could remove themselves from the menu. In Relativity's Free Birds, two of them finally get the chance to do just that. Reggie (Owen Wilson) and Jake (Woody Harrelson) find a time machine to take them back to the very first Thanksgiving, where they attempt to save their kind once and for all. Hit the jump to watch the first trailer.
The concept of time-traveling birds is a pretty weird one, but it seems to work really well here. It helps that Harrelson and Wilson seem to have great chemistry, probably since they're super tight in real life. But of all the jokes in the trailer, the one that amused me most was the weird "heh heh heh" laugh from the science lab drones. I don't know why, but I found the sound deeply hilarious.
Directed by Jimmy Hayward and also starring Amy Poehler, Dan Fogler, Lesley Nicol, George Takei, Colm Meaney, Keith David, Eddie "Piolin" Sotelo, and Dwight Howard, Free Birds opens just in time for Thanksgiving on November 1.
In this hilarious, adventurous buddy comedy for audiences of all ages, directed by Jimmy Hayward (Horton Hears a Who!), two turkeys from opposite sides of the tracks must put aside their differences and team up to travel back in time to change the course of history – and get turkey off the Thanksgiving menu for good.