'Dumb And Dumber To' Details Revealed: Peter Farrelly Claims Script Is "A Little Masterpiece"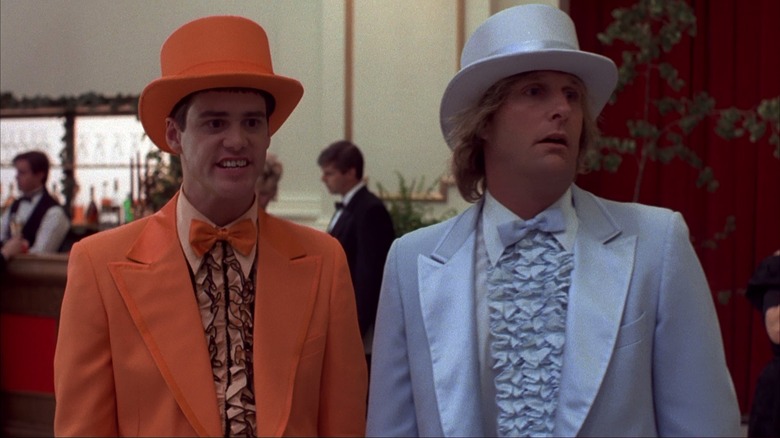 Peter Farrelly was a guest on the Nerdist podcast last week to make the big announcement that Peter and his brother Bobby were signing a deal to bring a Dumb and Dumber sequel to the big screen after news had leaked that Warner Bros would not be funding the film. Of course, the episode didn't get posted until Tuesday night, after it had been formerly announced that Universal Pictures would be producing the sequel, Dumb and Dumber To. But Farrelly reveals a bunch of details about the movie on the podcast, disputing reports that Warner Bros didn't dump the movie, confirming a handfull of returning cast members/characters, announcing a contest to appear in the movie, The release date, filming location, some vague story details and more
Peter announced an online contest: Send a Vine video to @farrellybros with the hashtag #DumbTo with their most entertaining Dumb and Dumber reference and they will choose a winner to be in the movie and say a line in the movie.
Confirmed to return for the sequel includes: Jim Carrey, Jeff Daniels, and even Harland Williams who played the pee-drinking cop in the first film. Farrelly said that blind kid will return in the movie as a man, but this might have been a joke.
The movie takes place in Rhode Island, but they plan to shoot the film in Atlanta Georgia for the state's tax breaks. They hope to start shooting in August 2013. "As we speak I have guys on the ground [working] in Atlanta" Georgia's tax breaks are 30% while Massachusetts tax breaks are 25%. Peter gave the example that a a $50 million movie will cost $34 million in Atlanta. The earlier report had claimed the budget would be in the low $30 millions, likely after tax breaks.
Dumb and Dumber To will be released Summer 2014: "It will be exactly 20 years when it comes out," said Farrelly. The original film was released on December 16th 1994.
Peter Farrelly on the news that Warner Bros didn't want to make the movie:
"There's been a lot of press about how Warner Bros doesn't want to make it, and it has nothing to do with that. In fact, it was originally released by New Line, and New Line now is owned by Warner Bros — so it never really was a Warner Bros thing. And we want .... long story short, we're going to another studio and their have been negotiations and thats whats held this thing up, we've been negotiating with two different studios, Warner Bros and New Line, about how to get it out of there."
Peter Farrelly on the screenplay for Dumb and Dumber To:
"I sent you the script. I was hoping you'd read it so I wouldn't have to sit here and tell you how good it is. But I'm telling you its a little masterpiece. It's so good, I think it makes the first one better." .. "We took two years to work on this script. We didn't want to do it unless it was as good as the first one. We just didn't want to tarnish the first one, and you know, we didn't do Dumb and Dumberer — that was done by — which is one reason they [WB?] didn't want to do this because they did that and it didn't work."
Its strange how Peter tries to dispute the reports that Warner Bros didn't want to make the movie and then later says the words "which is one reason they didnt want to do this".
Peter Farrelly on the story for Dumb and Dumber To:
"We start in Rhode Island and we pick up today and explain what they've been doing the last 18 years. And there is something that happens and we get off to the races quickly." ... "When you see Dumb and Dumber To, Dumb and Dumber 1 is better because you learn things in Dumb and Dumber To that you knew in Dumb and Dumber 1 but hadn't put together.  For instance, not giving away too much, Harry always gets revenge. " ... "And when you see the second one, it has a thing that you won't see coming , and at the end of it, you'll be like "oh my god, I just fell for the exact same thing."
You can listen to the whole podcast on Nerdist.com.