Guillermo Del Toro Talks 'Pacific Rim' Sequel; More Early Reactions Hit Web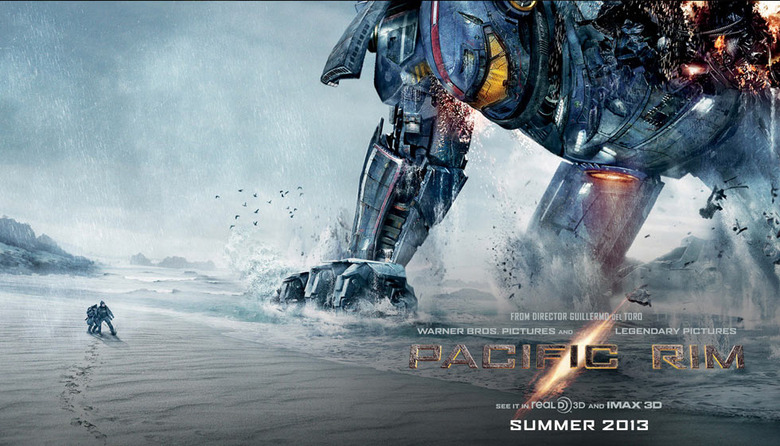 In a summer jam-packed with sequels and comic book adaptations, Guillermo Del Toro's Pacific Rim provides a breath of fresh air by being neither. But if all goes well, it could spark a franchise in its own right. In fact, Del Toro and screenwriter Travis Beacham are already planning out the next Pacific Rim. And although they won't give away too much about the follow-up just yet, del Toro's happy to hint at some of the ideas that might be on the docket.
Of course, all of their efforts will be for naught if the first Pacific Rim doesn't take off. Good thing, then, that the excellent buzz so far suggests the film should have no trouble finding fans. Like our own Peter Sciretta:
I'm allowed to tell you GDT showed me #PacificRim, and it is as awesome as you were hoping it would be.

— /Film (@slashfilm) June 18, 2013
After the jump, feast your eyes on other Pacific Rim reactions, and find out what del Toro's been saying about the sequel.
Pacific Rim: Insane action. feels huge&heavy. live action anime. humor will surprise. filled w/mythology, Day's performance = 75% Moranis GB

— /Film (@slashfilm) June 18, 2013
Guillermo del Toro's PACIFIC RIM is the goods. A rousing tribute to Harryhausen, Honda and the unfettered imagination of 13-year-olds.

— Jeremy Smith (@mrbeaks) June 18, 2013
I'm not going to jump into this "Pacific Rim" thing. I'd rather write a review than try to sum it up on Twitter. Having said that...

— DrewMcWeeny (@DrewMcWeeny) June 18, 2013
... I can pass along that Film Nerd 2.0 saw the film with me, and it tore off the tops of their heads and permanently scrambled them.

— DrewMcWeeny (@DrewMcWeeny) June 18, 2013
@andreweplotkin @slashfilm @Micah_Roberts @HitFix Five and eight. They've grown up on giant monster movies. Loved every frame.

— DrewMcWeeny (@DrewMcWeeny) June 18, 2013
Combine that with the excited reactions from early test screenings, and it really sounds like Pacific Rim lives up to the hype and then some. Whether that gushing praise translates to a strong box office remains to be seen, but excellent word-of-mouth never hurts.
As for what we'll see in the next film, del Toro has previously teased that he'd "love" to see Godzilla go head-to-head with a jaeger, and hinted that he'd like to delve deeper into the kaiju mythology. But he was more a bit more coy at today's Legendary Pictures press conference.
"We're been talking about the idea for it and working on a pitch," Del Toro explained, revealing that the sequel would go "in a very different route from the first one." Among other things, it may introduce a Mexican jaeger that was cut from Pacific Rim. "We basically couldn't afford it," he laughed. "He was the most expensive Jaeger."
Then there's the possibility of taking Pacific Rim into other media. "Having had two to three years pass from the first Pacific Rim to the second movie, we can also prepare a good video game, continue the graphic novel and continue the mythology," Del Toro added.
But that's all in the future. For now, we're just eager to check out the first Pacific Rim when it opens July 12.
[Sources: Deadline, Coming Soon]