Has Felicity Jones Confirmed Her Black Cat Role 'The Amazing Spider-Man 2'?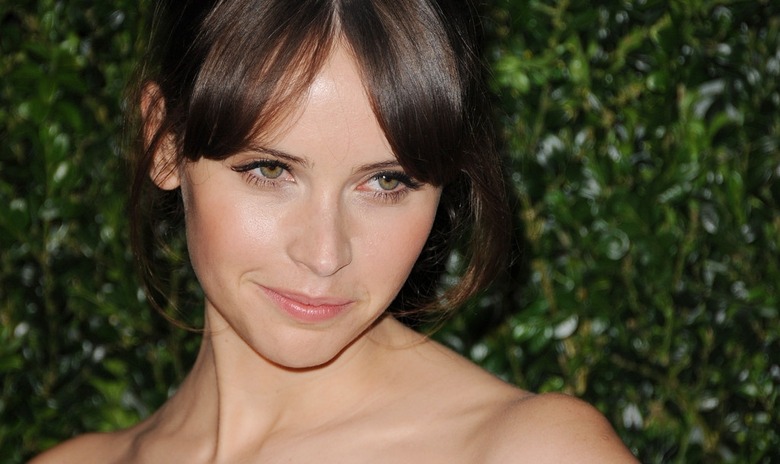 After introducing us to a new, rebooted vision of the Spideyverse in last year's The Amazing Spider-Man, director Marc Webb is planning to expand that mythology in a big way with next year's The Amazing Spider-Man 2. Mary Jane Watson (Shailene Woodley), Electro (Jamie Foxx), The Rhino (Paul Giamatti), Harry Osborn (Dane DeHaan), and Norman Osborn (Chris Cooper) are among the classic comic characters who'll be making their first appearances in the sequel, and now it looks like we can add Felicia Hardy a.k.a. Black Cat (Felicity Jones) to that number as well.
Since Jones boarded the cast earlier this year, there's been no confirmed info on whom she'd be playing. However, the actress herself has seemingly given herself away in a new interview. Watch it after the jump.
Asked whether she's "looking forward to everyone seeing [her] as Black Cat," Jones squirmed and stammered out an awkward response.
Um, well, uh, possibly. I don't know. Yeah, I kind of—it's um. Yeah, if that happens, that would be wonderful.
You can see the exchange for yourself below; Spider-Man chatter begins at 0:57.
That's not exactly Jones saying "Yes, I'm playing Black Cat," but her discomfort suggests that Gilbert is at least on the right track. The actress seems to be caught off guard, as she very well might if she'd been told not to divulge her character to the press. Or she may be confused because she's playing Felicia but not Black Cat in the next movie — a subtle but not insignificant distinction.
This is Jones' first big superhero pic, so she's probably not as practiced as deflecting questions as some of her co-stars are. But seeing as she'll be getting that question a zillion more times before the movie opens, I'm guessing she'll get used to it quick.
The Amazing Spider-Man 2 opens May 2, 2014. Andrew Garfield, Emma Stone, and Sally Field return from the first film.