'Frozen' Teaser Trailer: Cold War Erupts Between A Snowman And Reindeer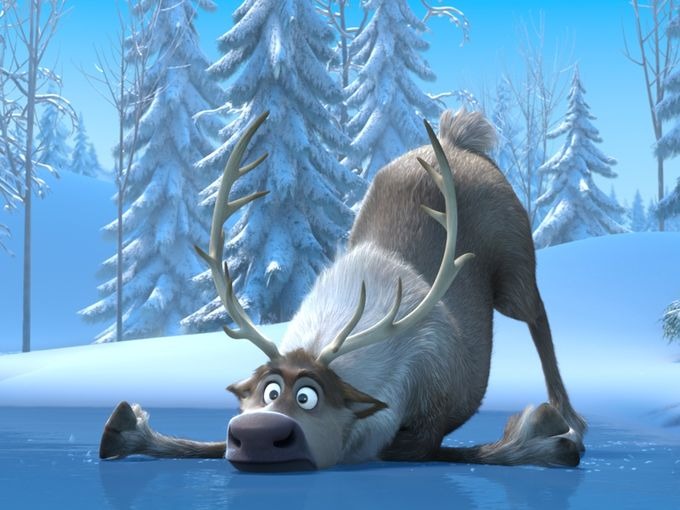 Frozen started off as a pretty straight-up adaptation of Hans Christian Anderson's story The Snow Queen. But, as we detailed earlier today, it mutated to become something rather different. Now it is a story of "two sisters torn apart by a big family secret," with Queen Elsa (Idina Menzel) as the elder sibling, who cursed her kingdom to be permanently on ice, and Anna (Kristen Bell) as the younger, who tries to find Elsa after she flees the kingdom.
Based on some of the concept art we've seen, I expected one thing from the film — something rather grand and pretty. But this first teaser trailer doesn't deal with family or curses, and it isn't "grand," exactly. It has a much smaller conflict in mind. Take a look for yourself below.
Why is the reindeer a dog? That's odd. (His name, by the way, is Sven. Not, ahem, Maximus.)
I find this looks more like a DreamWorks Animation or Blue Sky trailer than what I expected from Disney, even though Frozen will almost certainly have a less overtly goofy vibe for most of the story. We'll see how much like Tangled it ends up being. There's even (gulp) a whiff of '70s Disney animation, in the way the snowman is designed. That said, some of the snowman's actions are clever, and since Josh Gad voices him, he may also be quite funny.
Kids will probably be open to this, but still, Disney's older fans might need to see a bit more before booking tickets.
Frozen is directed by Jennifer Lee and Chris Buck, with original songs and music by Robert Lopez and Kristen Anderson-Lopez. It opens on November 27, 2013. Teaser via StitchKingdom.
When a prophecy traps a kingdom in eternal winter, Anna, a fearless optimist, teams up with extreme mountain man Kristoff and his sidekick reindeer Sven on an epic journey to find Anna's sister Elsa, the Snow Queen, and put an end to her icy spell. Encountering mystical trolls, a funny snowman named Olaf, Everest-like extremes and magic at every turn, Anna and Kristoff battle the elements in a race to save the kingdom from destruction.