Dean Parisot Now In Line To Direct Summit's 'The Secret Life Of Houdini'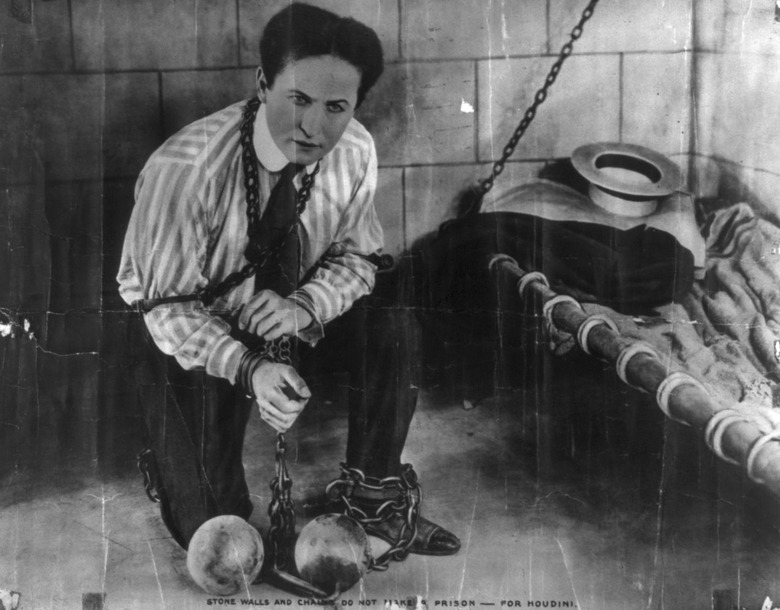 Dean Parisot has done a few big-screen directing gigs in the past two decades (Galaxy Quest being the fan favorite) but mostly worked in TV during that period. Now he's headed back to the big screen with the reins of Red 2 in hand. Summit may be happy with that sequel because the studio is reportedly giving Parisot something a lot more interesting than the geriatric assassins movie: a film about Harry Houdini.
Or at least, it will be a film inspired by Houdini. This is the one scripted by Noah Oppenheim based on William Kalush and Larry Sloman's book The Secret Life of Houdini, The Making of America's First Superhero. As that title makes clear, this one goes a bit beyond the bounds of portraying Houdini as an escape artist.
Deadline has the report. Now, Houdini was far more than an escape artist, and the source biography tries to explain all of the man's various interests. Here's a description of the book:
Handcuff King. Escape Artist. International Superstar. Since his death eighty years ago, Harry Houdini's life has been chronicled in books, in film, and on television. Now, in this groundbreaking biography, renowned magic expert William Kalush and bestselling writer Larry Sloman team up to find the man behind the myth. Drawing from millions of pages of research, they describe in vivid detail the passions that drove Houdini to perform ever-more-dangerous feats, his secret life as a spy, and a pernicious plot to subvert his legacy. The Secret Life of Houdini traces the arc of the master magician's life from desperate poverty to worldwide fame — his legacy later threatened by a group of fanatical Spiritualists led by esteemed British author Sir Arthur Conan Doyle. Initiating the reader along the way into the arcane world of professional magic, Kalush and Sloman decode a life based on deception, providing an intimate and riveting portrayal of Houdini, the man and the legend.
The "secret life as a spy" part has been a big sticking point for people with respect to this book, but in fact Houdini did so much that there's plenty to draw on to paint a vivid and varied portrait of his life.
Gary Ross (The Hunger Games) was once going to direct, but in fact this has been in development at Summit since 2009.