Star Wars Bits: Zack Snyder, Neill Blomkamp, 'Star Wars: Battlefront', Anthony Daniels, Warwick Davis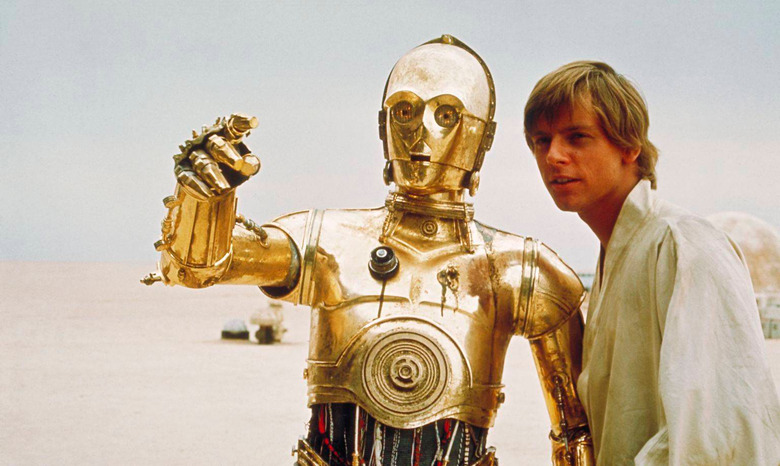 Luke, Leia, and Han are all set to appear in the new Star Wars trilogy, but what about their trusty pal C3PO? Anthony Daniels will only say "wait and see." Also after the jump:
Here's why you shouldn't believe those Star Wars plot rumors
Warwick Davis wants to audition for Episode VII
Zack Snyder talks about what Man of Steel might mean for Star Wars
Neill Blomkamp doesn't think he's right for Star Wars
Peter Mayhew's lightsaber gets him in trouble with the TSA
Nerdists sets hosts for the Course of the Force relay
See costume test pics from Star Wars: A New Hope
EA announces a new Star Wars: Battlefront
Watch a 50-minute 1997 documentary about George Lucas
McWeeny, who's racked up a lot of credibility when it comes to this stuff, dismisses the recent Jacen and Jaina Solo talk as "100%" bull. In fact, he says, it's unlikely the Extended Universe books will make it to the big screen at all. Head over to HitFix to read his reasoning.
In truth, despite the constant chatter and speculation, there isn't a whole lot we know for sure about the new films. One thing that's clear, however, is how many people want to be part of the new film.
Warwick Davis appeared as Ewok Wicket in Episode VI – Return of the Jedi and as Wald (among others) in Episode I – The Phantom Menace, but he's hoping he can cross over to the dark side upon his return to the galaxy far, far away. "My ideal role would be a villain, preferably with a light saber," he said in a recent interview.
While he's not part of the cast yet, he's hoping the same strategy that got him into the prequel trilogy can get him into the sequel trilogy. "Years ago I would drop lots of hints to George [Lucas], sending him faxes and I think he got so tired of it he said 'just put him in the film,'" he recalled. "I am hoping to drop a few auditions in there and to tease out a few details about the new films." [The Sun]
Meanwhile, Anthony Daniels (a.k.a. C3PO) is being a little cagier about his hopes for Episode VII. Asked whether he'd been approached about the new film, he gave a hesitant "Well..." before continuing:
What I always say to that is "Wait and see." Let's keep the suspense going. [...] I'd rather not comment. You will recall I've always had a rather discreet attitude, or a professional sense of discretion. I don't blab things about the script. I think that would be very unprofessional, or childish.
Happily, Daniels was more candid about C3PO's presence, or lack thereof, in Star Wars In Concert (he's in negotiations), Lego Star Wars (he just recently wrapped a new episode), and Star Wars: Rebels (he's not involved). [Bleeding Cool]
Earlier this year, Zack Snyder shot down reports that he'd be directing a Seven Samurai-inspired Star Wars flick. However, it doesn't sound like he's entirely ruled out the possibility of making a Star Wars movie. An interviewer recently asked him whether Man of Steel might be a "calling card" of sorts that could lead to work in Star Wars. Snyder's response was vague but ultimately positive.
If someone were to see the movie and say, like, "Dang, this guy can make a sci-fi movie," that's cool. But... yeah. I like to think that I kind of did that before this, but... yeah. I think so. It's something to regard.
I can't blame the guy for not wanting to give a definite answer at this point. But if you're a fan hoping for a Snyder-directed Star Wars, there you have it — something to pin your hopes on. [First Showing]
Standing in stark contrast to all the eager actors and filmmakers is Neill Blomkamp, who continues to maintain that he has no interest in tackling a Star Wars movie of his own. "I love Star Wars. I really, really love Star Wars," he said. "But I'm not the right guy. And also, just taking ideas that already exist in Hollywood is just not for me." [IGN]
Add lightsabers to the long, long list of things you're not allowed to bring on an airplane. Peter Mayhew, who played Chewbacca, tweeted that the TSA was refusing to let him through with his lightsaber-shaped cane.
@AmericanAir won't allow me through the airport with me cane! Can I get a retweet? pic.twitter.com/uP5OYwrj4k

— Peter Mayhew Foundation (@TheWookieeRoars) June 3, 2013
Ultimately, though, he was able to use the power of social networking to convince the agents to return his cane.
Magic words to TSA are not "please" or "thank you".. It's "Twitter".. cane released to go home.. pic.twitter.com/pb4r8g3DH7

— Peter Mayhew Foundation (@TheWookieeRoars) June 3, 2013
But the resolution didn't come fast enough to prevent the kerfuffle from getting covered by the media. The Colbert Report and The New York Post were among those who covered the incident. [via THR]
Nerdist Industries is getting the pieces in line for their second annual Course of the Force relay run. Chris Hardwick, Jessica Chobot, Alison Haislip, Alex Albrecht, VH1's Carrie Keagan, and Ashley Eckstein (Clone Wars) have been set as hosts and correspondents for the event, which starts at Skywalker Ranch on July 9 and finishes at San Diego Comic-Con on July 16. Get more details here. [Nerdist]
C3PO and Darth Vader's costumes are iconic today, but it took artist Ralph McQuarrie a few tries to get them right. Below, check out some of his earlier test designs.
[via Geek Tyrant]
The LucasArts game studio has been shut down, but the Star Wars video games will keep coming. Electronic Arts announced last week that they are working on Star Wars: Battlefront, the first to come out of a licensing agreement between the video game publisher and Disney. The new shooter appears set on the ice planet Hoth, and features an appearance from an AT-AT. Watch the teaser below.
No release date has been announced for the game. [LAT]
As Star Wars barrels into the future with Episodes VII, VIII, and IX, now seems like a good time to look back to the franchise's roots. A 1997 documentary titled George Lucas: Flying Solo from BBC Omnibus examines his early years, going all the way back to his short films.
James Erskine directed the film, which features appearances by Lucas collaborators like Francis Ford Coppola, Harrison Ford, Mark Hamill, and Irvin Kirshner. See the 50-minute doc below.
[via The Playlist]