'In A World' Trailer: A Trailer For A Comedy Set In The World Of Movie Trailers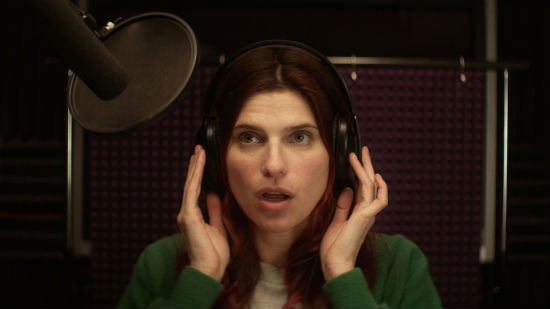 From the instant In A World... premiered at the 2013 Sundance Film Festival, I remember thinking, "I can't wait to see the trailer for that." That day is here. Written, directed by and starring Lake Bell, In A World... is the story of young woman trying to make a living in the male-dominated field of voice over work, specifically that of movie trailers. When marketers for a new movie decide to reinstate the classic phrase "In a world" for the film's trailer, a competition breaks out that pits the young woman against her father (Fred Melamed) and an up and comer (Ken Marino).
Featuring supporting performances by Dimitri Martin, Michaela Watkins, Rob Corddry, Nick Offerman and Geena Davis, the film won the Best Screenwriting award at Sundance. It opens on August 9. Check out meta-trailer below.
Thanks to Yahoo for the trailer.
Coming out of Sundance, I reviewed In A World... and said the following:
Bell's comedic timing with the wonderful cast keeps the story interesting and fun, even when it veers off into melodrama. She also packs the film so full of detail, cameos and real life situations that this world feels new and fresh, even through the lens of a conventional narrative. She's a true talent and this wholly entertaining and funny film could keep her behind the camera instead of in front of it.
I stand by that. In A World...is a movie you should check out if you love movies, romantic comedies or smart satire. It just ends up being a bit more predictable than you'd hoped. Bell is a real talent.
Did you like the trailer?